Gray Television to Buy Raycom Media in $3.65 Billion Deal
(Bloomberg) -- Gray Television Inc. agreed to buy Raycom Media Inc. for $3.65 billion, another sign of how local broadcast stations are bulking up in the U.S. to get more revenue from pay-TV providers amid a fickle advertising market.
Gray will pay $2.85 billion in cash and $650 million in a new series of preferred stock, plus 11.5 million shares worth $147 million based on Friday's closing price, according to a statement on Monday. Investors cheered the deal, sending Gray's shares up as much as 16 percent, the most in four years.
Owning more stations can help broadcasters like Gray generate more revenue from cable and satellite providers like Comcast Corp. or AT&T Inc.'s DirecTV, which pay for the right to carry their signals. TV station owners, which carry the local affiliates for networks such as CBS and NBC, are relying more on those fees to make up for the volatile ad market.
The Gray-Raycom merger is the second television megadeal in a year, following Sinclair Broadcast Group Inc.'s agreement to buy Tribune Media Co. for $3.9 billion. Sinclair is seeking regulatory approval for its purchase.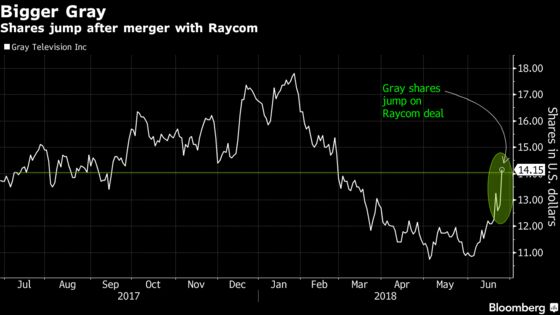 Shares of Atlanta-based Gray rose 11 percent to $14.25 as of 10:09 a.m. in New York. Even after the jump, the stock is still about 20 percent lower than its recent high of $17.80 in January.
The combined Gray-Raycom will own 142 stations in 92 markets, making it the third-largest station owner in the country. Gray is acquiring stations in markets as small as Ottumwa, Iowa, and as big as Cleveland, Ohio, where it will own the CBS affiliate that airs NFL games, the NCAA March Madness tournament and The Masters golf tournament. Live sports remains valuable for advertisers as entertainment programming sees a steady loss of viewers.
On a call with analysts, Gray executives said they expected to get regulatory approval in the fourth quarter and would divest some stations in overlapping markets.
Even with Raycom, Gray will cover only 24 percent of the country, so it still has room to grow under government rules that limit station owners to 39 percent of the national market, according to Paul Sweeney, an analyst at Bloomberg Intelligence.
A larger footprint could also help Gray negotiate better terms with station owners like NBC and pay-TV providers. Local broadcasters pay national station owners for the rights to carry their signals to local viewers, while collecting fees from pay-TV distributors. Broadcasters are trying to rely more on monthly subscriber fees, which are seen as more reliable than advertising. But revenue from subscriber fees are no longer a sure thing, as they're being squeezed by the rise of TV cord-cutting.
Local TV station owners rely on a windfall from political advertising. But the landscape is shifting. Spending on political ads during the 2016 U.S. presidential election fell sharply from 2012, partly because Trump's campaign relied instead on getting his message across in a steady stream of media interviews and tweets. That hurt local broadcast station owners, but they're hoping the midterm elections this fall will return to advertising growth.
Wells Fargo has underwritten the debt financing portion of the Gray transaction in the amount of $2.53 billion.
Gray won't acquire Community Newspaper Holdings Inc., which owns local papers and information products in 23 states, or PureCars, a digital ad platform for the automotive industry. Raycom started the process to sell or spin off those assets before the merger.