GE's Dribs and Drabs of Deals Need to Add Up
(Bloomberg Opinion) -- General Electric Co. is adding another few billion to its depleted coffers, but it's got a long way to go.
The beleaguered industrial giant, fresh off its demotion from the Dow Jones Industrial Average, on Monday announced the sale of its distributed-power business to private equity firm Advent International. The headline deal value is $3.25 billion, although I will note that it's generally good practice to wait for the fine print on GE divestitures. Past price tags have been watered down by deal taxes or a need to direct cash to GE Capital for receivables. There are also no public details yet as to the fate of any pension liabilities associated with the unit, which sells Jenbacher and Waukesha industrial gas engines.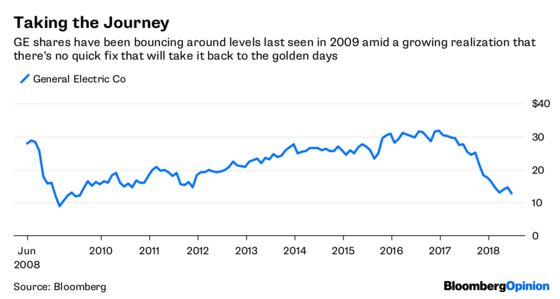 But whether it's $3.25 billion or ultimately a bit less, GE still has a hefty balance-sheet hole to fill to justify its A2 credit rating, which Moody's Investors Service Inc. regards with a negative outlook. JPMorgan Chase & Co. analyst Steve Tusa has estimated the company will need to raise $30 billion to lower its debt-to-Ebitda ratio to the 2.5 level targeted by credit-rating firms. That's in addition to proceeds from divestiture plans already underway, including this distributed-power sale and the merger of GE's locomotive division with Wabtec Corp.
GE shares dropped more than 2 percent following the announcement. That's likely a reflection of broader concern about an escalating trade war that could see U.S. manufacturers feeling the pinch of retaliatory tariffs from the European Union and the ripple effects of an American effort to clamp down on exports to China.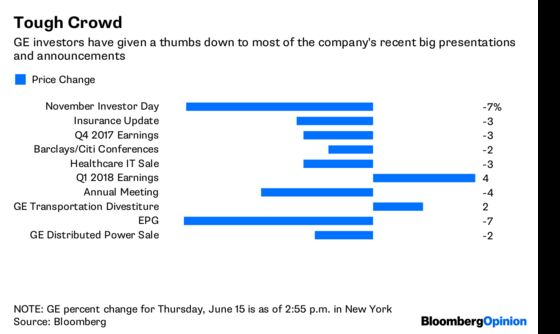 But there's also a sense that the distributed-power sale is just another in a growing list of incremental divestitures. GE investors are primed for a big portfolio announcement sometime soon, but there remains a risk that GE's bloated pension deficit, heavy debt load and desire to avoid a fire sale will force CEO John Flannery to restructure the company by dribs and drabs. The company will have only itself to blame if investors are disappointed.
It's worth noting that this is just the latest example of GE undoing some of former CEO Jeff Immelt's capital-allocation decisions. GE purchased Jenbacher in 2003 and added Waukesha via the $3 billion takeover of Dresser Inc. in 2011. The distributed-power business is meeting the same fate as the water unit and fire and security division Immelt cobbled together through acquisitions.
It makes me wonder whether the Alstom SA acquisition — arguably one of Immelt's biggest blunders, but also the responsibility of Flannery who was head of business development at the time — might also be partially unwound, one way or another. It seems likely the company will have to take a writedown tied to the 2015 acquisition when it performs its annual goodwill check in the third quarter. A divestiture of Alstom's gas-turbine operations would be tricky given the steep decline in the power market, but it's not clear to me what interest GE has in continuing to invest in the operations underlying the renewable energy, grid and nuclear joint ventures it was recently forced to buy out from Alstom. Meanwhile, GE is facing pushback in France over its failure to meet job commitments.
Stay tuned for more on GE's great unwind.