Engie Weighs Offer for $8.5 Billion EDP Renovaveis
(Bloomberg) -- France's Engie SA and Denmark's Orsted A/S are among suitors considering a bid for the 7.6 billion-euro ($8.9 billion) renewables unit of EDP-Energias de Portugal SA, according to people with knowledge of the matter, adding a potential new twist to China Three Gorges Corp.'s pursuit of the company and its parent.
Engie and Orsted are working with advisers on evaluating offers for all or part of EDP Renovaveis SA, the people said, declining to be identified as the discussions are confidential. Paris-based Engie is most interested in the firm's U.S. portfolio, but is considering making a bid for the complete renewables unit, two of the people said. The deliberations are in early stages, and the suitors may opt not to make a formal offer, they said.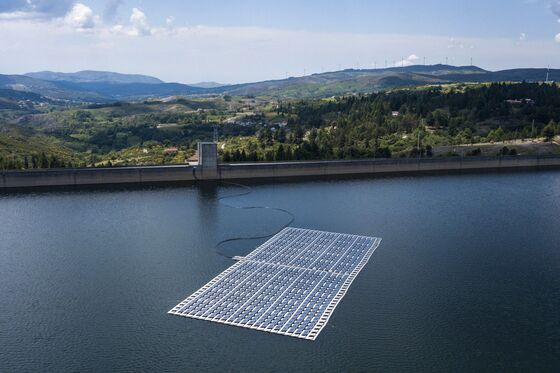 EDP Renovaveis shares rose as much as 7.5 percent to a record high of 8.99 euros in Lisbon on Tuesday, before trading up 6 percent at 1:55 p.m. local time.
A representative for Orsted said, "We are not preparing a takeover bid for EDP Renovaveis." A spokesman for EDP declined to comment.
Engie is constantly assessing investment opportunities, it said in a statement Tuesday. The French firm hasn't taken any decision in relation to EDP Renovaveis, and it's not currently preparing the launch of a formal takeover offer, it said.
EDP Renovaveis is also drawing interest from other European utilities seeking to expand in renewables, the people said. Potential buyers are preparing for the Chinese firm to sell certain assets to secure regulatory approval should its takeover offer succeed, the people said. Engie could even team up with the Chinese to buy certain assets to help facilitate U.S. approval, they said.
Shares of EDP Renovaveis soared 20 percent this year to close at about 8.37 euros on Monday. Three Gorges had in May offered 7.33 euros a share for the renewable-energy unit, which is 83 percent-owned by EDP, while simultaneously making a 9.1 billion euro-bid to boost its stake in the parent company to more than 50 percent. Both offers were rejected as too low.
China's biggest renewables developer, already the largest shareholder in EDP, was rebuffed again this month even after Three Gorges offered to contribute certain assets to the Portuguese company and said it wants the firm to lead its growth in Europe and the Americas.
The Chinese firm's bid would be subject to several regulatory approvals, including from the Committee on Foreign Investment in the U.S. Three Gorges said in the offer announcement on May 11 that it doesn't rule out accepting some "mitigation measures'' from that regulator.
EDP's North American unit controls a sprawling clean energy portfolio, with whole or partial stakes in more than 5,600 megawatts of wind and solar farms. Selling it all at once "would be the biggest renewable-energy portfolio disposal ever," Angus McCrone, chief editor of Bloomberg NEF, said in an email.
It would follow a spate of recent large clean-power deals. Earlier this year, Global Infrastructure Partners agreed to pay $1.38 billion for NRG Energy Inc.'s renewables platform and a controlling stake in NRG Yield Inc., a publicly traded wind and solar company. And Brookfield Asset Management Inc. bought the TerraForm yieldcos from SunEdison Inc. in two deals last year that valued their combined equity at $2.49 billion.
EDP's North American portfolio includes 45 wind farms and five solar farms, according to a list the company provided in May. Most of the North American plants are in the U.S.