Fox Warns Tory Rebels Not to `Play Games' With U.K. Trade Bill
(Bloomberg) -- U.K. International Trade Secretary Liam Fox warned fellow Conservatives not to "play games" with the government's proposed trade legislation on post-Brexit policy because of the potential consequences for British jobs.
Lawmakers are expected next month to debate the Trade Bill, preparing the ground for policy after Britain leaves the European Union. At least half a dozen Conservatives back an amendment that would force ministers to "take all necessary steps" to enable the U.K. "to participate after exit day in a customs union with the EU," in contravention of current government policy.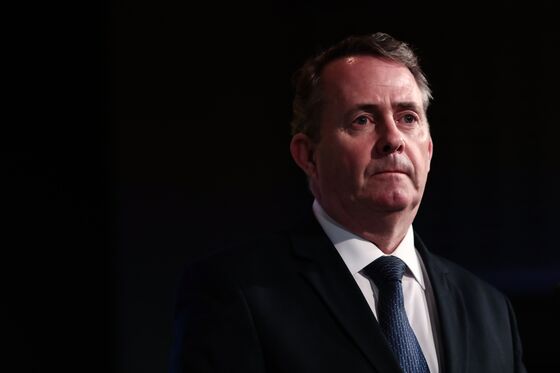 "The trade bill is there to ensure continuity of our current trading arrangements," Fox said in an interview with Sky News on Sunday. "It also is there to ensure that we have the ability to set up a trade remedies body to defend things like our steel industry, our ceramics industry. People who play games with this need to understand the consequences would be a disruption to our trade and an inability for us to defend parts of our industry against dumping from places like China."
Prime Minister Theresa May quelled a rebellion from Conservatives last week that would have forced her to give a bigger say to Parliament over the shape of her eventual Brexit deal. Now, the Trade Bill looms as her next major showdown with Tory rebels who are seeking to soften Brexit. While ministers have yet to set a date for debate on the legislation, they've indicated it'll come before the summer recess, which begins July 24.
At one point, as many as 10 Tory lawmakers had endorsed the amendment on the customs relationship, in theory enough to defeat the government that relies on the 10 members of Northern Ireland's Democratic Unionist Party to pass votes in Parliament. While some Tories have since withdrawn support, at least six remain backers of the proposed change, offered by former Business Minister Anna Soubry and former Chancellor of the Exchequer Ken Clarke.
"Before they start to play Parliamentary games, they should think about the consequences for real British jobs," Fox said. That's "a message to everybody who will be voting on that bill."