U.S. IPOs Set for Busiest Week in Three Years
(Bloomberg) -- IPO naysayers should check the numbers: The dozen U.S. initial public offerings expected next week is a milestone not seen since June 2015.
BJ's Wholesale Club Holdings Inc. tops the list in size, aiming to raise as much as $638 million. It's followed by commercial landscaping services company BrightView Holdings Inc. at $533 million and Chinese online used car selling platform Uxin Ltd. at $475 million.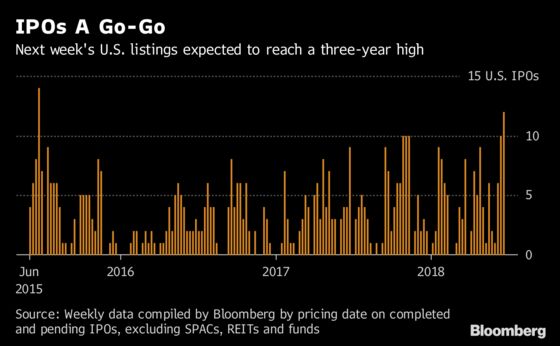 The crowd is hitting public markets on the heels of a week that was already a win for IPO cheerleaders. Ten listings this past week, led by a slew of health-care deals, was the busiest since November, according to data compiled by Bloomberg.
The returns weren't shabby, either. The stocks have risen an average of 17 percent from the listing prices, compared with a decline of 0.7 percent in the S&P 500 Index since Monday. The largest of the health-care offerings, Autolus Therapeutics plc, rose as much as 76 percent in its trading debut Friday.
Next week's dozen U.S. deals is set to fall just shy of the 14 IPOs for the week that began June 22, 2015, the data show.
If the numbers hold through the end of June, the year's first half is on pace for 112 listings, according to the data, which excludes special purpose acquisition companies, real estate investment trusts and funds. That's 60 percent of the total number of U.S. IPOs last year and just shy of the 123 listings in 2016 and 120 in 2015.
Reports of the IPO market's death may indeed be greatly exaggerated.