Tiger Brands Considers North Africa for Continental Expansion
(Bloomberg) -- Tiger Brands Ltd. is considering North African nations among expansion targets as the continent's biggest listed packaged-food maker looks for growth outside its home market of South Africa.
The company is still developing its 'rest-of-Africa' strategy, which has been delayed by about six months as management dealt with one of its plants having been linked to South Africa's listeriosis infection crisis, said Chief Executive Officer Lawrence Mac Dougall. Tiger Brands, which sees its core business as supplying food products to middle-income consumers, also wants to make sure that its business at home is "secure and healthy" before making big moves elsewhere, he said.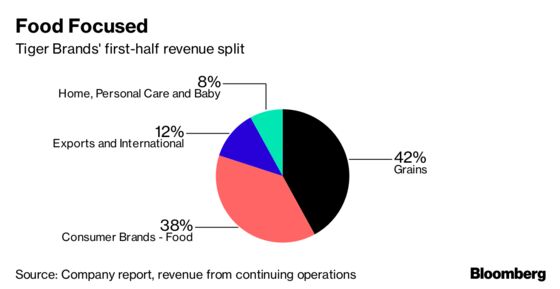 While the company is still working out details, it plans to select several countries to move into as part of the new strategy, the CEO said in an interview this week at Tiger Brands' Johannesburg headquarters. Nearly 90 percent of its sales in the six months through March were from South Africa, according to data compiled by Bloomberg.
"Obviously sub-Sahara is easier to play because it's closer, but our strategy is looking at the total Africa," he said. "You have to look where the trading zones have been constructed."
While sub-Saharan Africa won't be ignored by Tiger Brands, North African countries such as Morocco and Egypt have comparatively larger middle classes and more developed retail sectors than African nations below the Sahara excluding South Africa. Other South African companies that expand elsewhere on the continent tend to focus on the sub-Saharan region.
The company will use an "on-the-ground, bottom-up" model, and make sure it markets and supports the products, which will initially be shipped from South Africa, said Mac Dougall, who joined in 2016 from Mondelez International Inc. Tiger Brands makes products from energy drinks to peanut butter and porridge oats to shampoo.
"We are first looking at the country lens, then the category lens," Mac Dougall said. "What's the size of the category, does it play to our core business and what is our ability to win?"