OPEC Nears Deal on Oil-Supply Boost After Saudi-Iran Talks
(Bloomberg) -- OPEC inched closer to an agreement that would allow an oil-supply increase after positive talks between Saudi Arabia and Iran.
Iranian Oil Minister Bijan Namdar Zanganeh said he had a good meeting with his Saudi counterpart in Vienna on Friday and he wasn't feeling pessimistic about the possibility for a compromise -- a reversal of his position on Thursday night. After a tumultuous few weeks that have whipsawed crude markets, his comments suggested oil consumers from the U.S. to India and China could soon find some relief from high prices.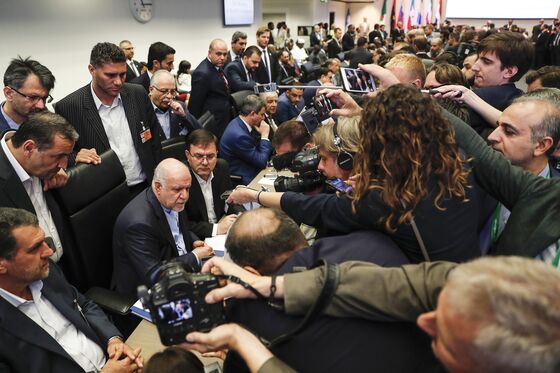 "We had a good discussion, we agreed on some principles to compromise with each other in this meeting," Zanganeh told reporters. "They are writing a text to finalize this structure." Neither of the ministers commented on the details of their deal.
OPEC officials have gathered in the Austrian capital to discuss a production increase that would be equivalent to about 600,000 barrels a day, or 0.5 percent of global supply. Saudi Energy Minister Khalid Al-Falih said he is actually pushing for a 1 million-barrel-a-day adjustment to the supply cuts that the Organization of Petroleum Exporting Countries and its allies agreed in 2016.
That would be distributed proportionally between the 24 nations participating in the curbs. Some of those countries, notably Venezuela and Mexico, are currently unable to increase output, so about a third of that oil wouldn't actually return to the market, according to Bloomberg calculations based on data from the International Energy Agency.
"There will be a lot of imaginative mathematics to please everyone, but what matters is the actual barrels coming to the market," said Amrita Sen, chief oil market analyst at consultant Energy Aspects Ltd. "It's hard to see that being more than 600,000 barrels a day."
By the end of summer, additional crude should be flowing into the market, Al-Falih said. Other ministers, including the representatives of Algeria, the United Arab Emirates, Iraq and Venezuela, said they were optimistic there'll be an agreement to boost supply.
Brent crude, the international benchmark, gained 1.3 percent to $74.03 a barrel as of 12:06 p.m. in London, ending three days of losses.
The Organization of Petroluem Exporting Countries requires unanimity for any change in oil policy, meaning Iran could in theory wield a veto over any deal. A messy outcome seemed more likely on Thursday after Zanganeh walked out of a meeting with other ministers and said he couldn't be convinced to back an increase. He reversed that position on Friday and OPEC is now working toward a final agreement.
Zanganeh's initial dissent reflects the fact that its petroleum industry is coming under fresh U.S. sanctions. The restrictions, imposed after President Donald Trump unilaterally withdrew from an international accord over Iran's nuclear program, could significantly curb the country's oil exports. Saudi Arabia has enough spare capacity to offset those losses and keep a lid on prices, but Al-Falih has acknowledged that such a move isn't politically palatable for his fellow OPEC member.
Resolving Iran's concerns and delivering an agreement backed by all would preserve the historic cooperation between OPEC, Russia and several other major producers. Their collaboration has been instrumental in ending a three-year oil slump and could pave the way for a new "Super-OPEC" that could reshape global oil politics. The 10 non-members participating in the supply agreement will meet OPEC on Saturday to ratify any decision.
"We are not going to destroy what we have built, " said U.A.E. Energy Minister Suhail Al Mazrouei.