Oil Bounces as OPEC Adopts Underwhelming Production Increase
(Bloomberg) -- Oil jumped the most since late 2016 after OPEC adopted a smaller-than-expected production increase.
Futures advanced 4.6 percent in New York on Friday to close above $68 a barrel for the first time this month. Although the OPEC-led group of 24 major oil producers approved a 1 million barrel boost to daily output, several cartel members said the actual increase will only reach 700,000 because some nations are incapable of pumping more crude.
"They came up short relative to market expectations," said John Kilduff, a partner at New York-based hedge fund Again Capital LLC. OPEC and its partners are exhibiting a "lack of being aggressive about wanting to get oil prices down."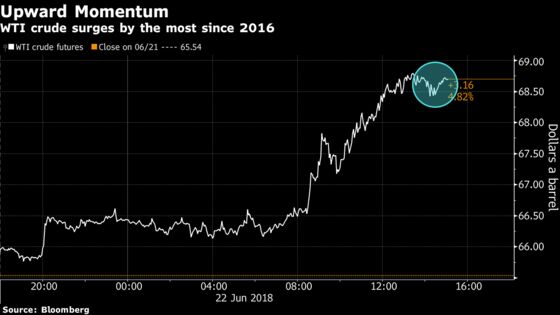 The million-barrel agreement emerged late Thursday after closed-door negotiations among ministers from OPEC and allies. The biggest of the non-cartel participants, Russia, had previously advocated for a 1.5 million-barrel increase.
Technically, the group will strive to reach 100 percent compliance with production quotas adopted about 18 months ago, according to a communique published after the meeting.
"They wouldn't add barrels unless they needed to," said Chris Kettenmann, chief energy strategist at Macro Risk Advisors LLC. "It took them two and a half years to restore their reputation."
West Texas Intermediate crude for August delivery jumped $3.04 to settle at $68.58 a barrel at on the New York Mercantile Exchange. Total volume traded was almost double the 100-day average.
See also: WTI, Brent Dec.-Dec. spreads strengthen on OPEC deal to boost supply
The premium the August WTI contract commanded over September futures expanded to 95 cents, the strongest since 2014, amid concerns about dwindling inventories at the biggest American storage complex in Cushing, Oklahoma.
Brent crude for August settlement advanced $2.50 to end the session at $75.55 on the London-based ICE Futures Europe exchange. The international benchmark oil traded at a $6.97 premium to WTI.
Gasoline futures rose 2.9 percent to settle at $2.0705 a gallon in New York.
Money managers raised bullish ICE Brent crude oil bets by 2,506 net-long positions to 458,449, weekly ICE Futures Europe data on futures and options show.
Oil explorers reduced drilling in the U.S. this week for the first time in almost three months.