J&J's Drug Unit Chief Expands Portfolio as Consumer Head Departs
(Bloomberg) -- Johnson & Johnson's head of pharmaceuticals, Joaquin Duato, will add the company's consumer business to his portfolio in an executive shakeup at the U.S. health-care conglomerate.
J&J said Friday that Duato, 56, will take over much of the portfolio overseen by Sandra Peterson, 59, who is retiring on Oct. 1. Duato and Paul Stoffels, who leads J&J's drug research and development, will both be named vice chairmen of the New Brunswick, New Jersey-based company's executive committee.
The consumer unit makes everything from Band-Aids to baby-care products, as well as over-the-counter medicine such as Tylenol pain pills and Benadryl for allergies. It had sales of $13.6 billion last year, making up 18 percent of J&J's $76.5 billion in revenue. The drug unit Duato runs is the company's biggest, with $36.3 billion in sales.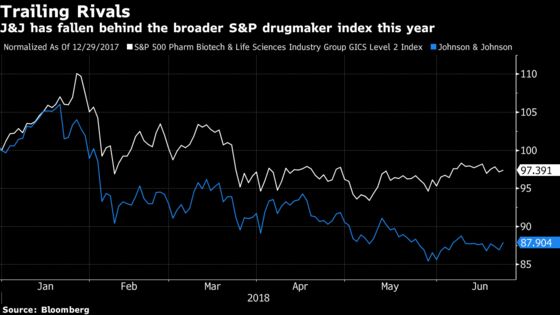 The change isn't a signal that Duato will necessarily succeed Chief Executive Officer Alex Gorsky, 58, according to spokesman Ernie Knewitz.
"Alex is going to be here for a very long time," Knewitz said. The company, he said, wanted to give Duato more leadership opportunities.
Peterson joined J&J in 2012. Last year, she took over the company's medical-device business, the company's second-largest unit by sales. The company said at the time the move wasn't intended to signal that Peterson was being tabbed as a potential successor to Gorsky.
J&J shares rose 1.1 percent to $122.82 at the close in New York.