Foxconn Chairman Sees Biggest Challenge in U.S.-China Trade War
(Bloomberg) -- Terry Gou, the billionaire chairman of Apple Inc.'s main iPhone assembler, said the biggest challenge facing his Foxconn Technology Group is a trade war between the U.S. and China.
Foxconn has a number of response plans to a trade war, Gou said, without elaborating, at the annual shareholder meeting of Hon Hai Precision Industry Co., his main listed unit. While Foxconn is a Taiwanese company, it puts together iPhones and other gadgets at plants across mainland China.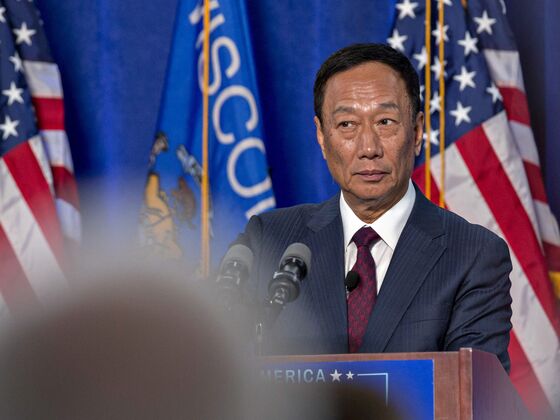 Foxconn, which is China's largest private employer and has about a million on its payroll, is sensitive to any escalation in the trade dispute that impacts on Apple, the source of more than half of Hon Hai's revenue. China's rising economic and technological prowess is at the heart of a dispute with the U.S. that, while waged through retaliatory trade tariffs, is also aimed at prying open the Asian nation to U.S. businesses and restricting the use of government aid to advance strategically important industries.
"The biggest challenge facing Foxconn is a U.S.-China trade war," Gou said. "The trade war is not about trade, but it is a tech war, and it is a manufacturing war."
Gou refrained from criticizing either side in current negotiations, saving his sharpest comments for domestic labor laws, arguing that "unreasonable" restrictions on overtime hours hurt his workers and the company's competitiveness. He told shareholders that his workers actually want to work more hours and that forcing them to put in less time reduces their income.
Foxconn has drawn fire for years over practices such as allowing overtime to soar during the peak season, when it sharply ramps up production to get devices to market in time for the holidays.
Gou argued that Foxconn should be governed by U.S. regulations since, as the world's largest electronics contract manufacturer, a large swath of its customers from Apple to Amazon.com Inc. are American. The CEO also repeated a pledge to employ robots to replace 80 percent of workers in coming years, as one potential solution.
"China has tougher overtime regulations than the U.S. and the European Union, and they understand those are unreasonable regulations, unreasonable laws," Gou said. "Right now during the low season we are following China's regulations, and in the peak season we are following U.S. regulations."