EU Warns of `Severe Disruption' as Trump Threatens Car Tariffs
(Bloomberg) -- The introduction of U.S. tariffs on European Union automobiles and car parts could affect $300 billion in trade and damage nearly all of the bloc's 28 member states, according to an EU report.
Duties of 25 percent "could be expected roughly to reduce U.S. imports of car and car parts in half," the European Commission wrote in a memo obtained by Bloomberg. "An introduction of U.S. tariffs would be met with equivalent penalties imposed by affected trading partners."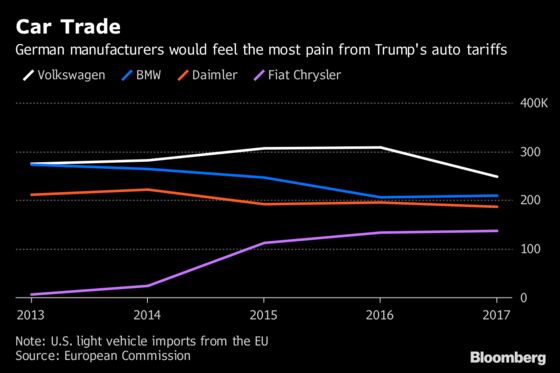 President Donald Trump said Friday on Twitter that he would impose a 20 percent levy on all cars imported from the EU unless the bloc removes import duties and trade barriers. This comes on the same day that the EU triggered tariffs on 2.8 billion euros ($3.3 billion) of American products in response to U.S. duties on its steel and aluminum exports that were justified on national security grounds.
EU and U.S. auto-related trade accounts for some 10 percent of total commerce between the two regions, according to the European Automobile Manufacturers' Association. The U.S. is the number one destination of EU car exports both in terms of volume -- making up around a fifth of all exports -- and revenue with just under a third of total export value.
The pain wouldn't just be felt by the EU, according to the report prepared for governments ahead of a meeting of EU leaders next week. The trade barrier would also hit the U.S. economy and could result in "upwards of 180,000 jobs lost" and the impact could be doubled by countermeasures, the commission said in the memo.
There were 294 billion euros worth of automobiles and car parts imported into the U.S. last year, 58 billion euros of which originated in the EU, according to the commission report. An escalation in the trade dispute would hit Germany especially hard, which ships about 600,000 autos to the U.S. every year, Arndt Ellinghorst, a London-based analyst at Evercore ISI, said in a note to clients.
A 20 percent tariff on imported cars would be a "terrible" scenario for Germany, wrote Ellinghorst, who estimated that the country's manufacturers -- Volkswagen AG, Daimler AG and BMW AG -- would suffer a financial hit of about 4.5 billion euros. "Not a single car could be shipped with a profit to the U.S."