Congo Ex-Vice President Is Set to Return as Election Looms
(Bloomberg) -- Former Democratic Republic of Congo Vice President Jean-Pierre Bemba will go home next month, a party official said, after the political heavyweight's acquittal of war crimes convictions delivered an unexpected twist to this year's elections.
The 55-year-old politician's return presents President Joseph Kabila and his ruling coalition with a rival they expected to still be behind bars at the International Criminal Court in The Hague. And if Bemba fails to agree partnerships with other leading anti-Kabila figures, his re-emergence could splinter the opposition vote in an election scheduled for Dec. 23.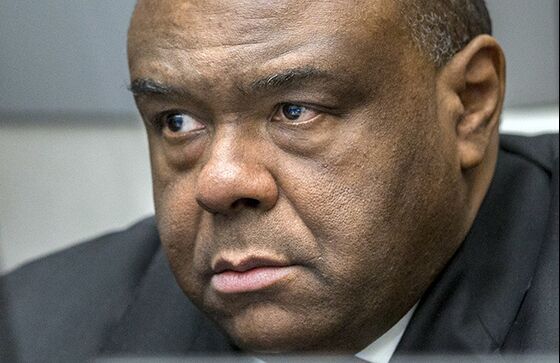 "Bemba has the profile to mount a serious bid for top office," the International Crisis Group said in a June 15 briefing. "He remained politically active in detention, as far as the conditions of his custody would allow, and it seems very likely that he will seek a political comeback."
Bemba, popular in the west and north of Congo, will attend a congress in the capital, Kinshasa, in July of the Movement for the Liberation of Congo -- the party he's remained president of throughout his decade-long detention. He's yet to decide whether to run for president, Eve Bazaiba, secretary-general of the MLC, said in an interview Wednesday from Kinshasa.
"The political intentions of Jean-Pierre Bemba will be known on July 13 at the close of the party's congress," Bazaiba said.
The International Criminal Court overturned Bemba's 2016 convictions for war crimes and crimes against humanity on June 8. He'd been given an 18-year prison sentence for murders and rapes committed in 2002 and 2003 in neighboring Central African Republic by fighters from the Congolese rebel group he then led, which was later transformed into his political party. Bemba is now in Belgium, where his family lives.
A hearing will take place on July 4 relating to a separate case in which Bemba was found guilty of influencing witnesses participating in the main trial.
Bemba was vice president in a transitional government for three years from 2003 and was defeated in the 2006 presidential election by the serving head of state, Joseph Kabila. He fled the country in 2007 after clashes between troops loyal to him and Kabila, before being arrested in Belgium the following year.
Congo, the world's largest source of cobalt and Africa's biggest copper producer, hasn't had a peaceful transfer of power since it gained independence in 1960. Kabila was supposed to step down in late 2016 at the end of his constitutionally limited second term, but elections weren't organized and the president remained in office, sparking protests in which security forces killed dozens of people.
Kabila's hasn't said who'll be the candidate for his ruling coalition, spurring speculation he'll seek to change or reinterpret the constitution to run again -- or delay the vote.
Other opposition contenders for the presidency include Moise Katumbi, the former governor of the copper-rich Katanga province, and Felix Tshisekedi, the president of the largest opposition party. With Katumbi in self-imposed exile and hounded by three judicial investigation he considers politically motivated, the two men are considering backing a sole candidate to compete in the next election.
Bemba and the MLC support the idea of uniting behind a single opposition figure, Bazaiba said.
"Even when he was still at the ICC, the MLC was already behind a joint candidacy," she said. "There will only be one candidate for the opposition."
If Katumbi, Tshisekedi, Bemba and others such as Vital Kamerhe, who came third in the 2011 election, cannot form an alliance, the MLC boss's "return could also present an opportunity to split the opposition vote," according to the International Crisis Group.
Bemba's supporters say he could be kept from the fray by the kind of legal difficulties currently dogging Katumbi.
"Bemba left the country after the short war he provoked after the elections in 2006," Barnabe Kikaya bin Karubi, Kabila's chief diplomatic adviser, said in an interview. "He's free to come back, but I don't know if there's anything in the justice system as the result of his actions after the elections."
"If he fulfills the conditions of legibility, he won't have any problems," said Onesime Kukatula, deputy rapporteur of the country's electoral commission. "If he doesn't fulfill them, he won't be admissible."