Canada's Economy Just Wobbled But Rate Hikes Still Expected
(Bloomberg) -- Canada's economy is stuck in a soft patch, but analysts remain optimistic a rebound and further interest-rate hikes are still in the cards.
Data over the last month reveal an economy struggling to find its footing and hobbled by headwinds ranging from trade frictions with the U.S. to a slowing housing market and poor weather. Still, economists remain convinced that strong U.S. growth and a recovery in consumer spending will lead to a revival.
"Fundamentals are still in place," said Krishen Rangasamy, a senior economist at National Bank of Canada. "It's true we are not getting ideal results," he said, but "it's still too early to say that things are bad in Canada."
The nation's economy has failed to grow beyond 2 percent for three consecutive quarters, something that hasn't happened since 2015. Economists anticipate growth will accelerate to 2.5 percent in the second quarter, after sluggish consumer spending reduced it to 1.4 percent in the first three months of the year. The expansion is expected to remain above 2 percent for the rest of 2018 -- prompting the central bank to keep hiking after three rate increases since last July.
Inflation and retail numbers released Friday however suggest a disappointing start to the recovery. The consumer price index recorded an annual pace of 2.2 percent in May, unchanged from April and well below economist expectations for a 2.6 percent gain, Statistics Canada said Friday. While consumers rarely complain about lower inflation, the concern is that sluggish price pressure could signal an economy that's not as strong as many thought.
A separate report by the Ottawa-based agency Friday showed retailers posted a 1.2 percent sales drop in April, also unexpected.
The poor inflation and retail sales data follow weak manufacturing sales and employment data -- all within the context of growing trade worries.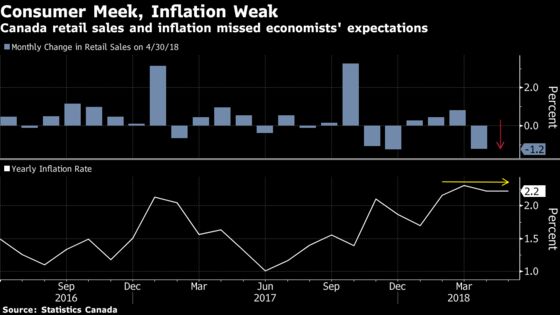 But economists are accentuating the positives, citing the benefits likely to come from strong wage gains and the expected lift the nation's exporters will get from strong U.S. growth. The U.S. economy is expected to expand at a 2.9 percent pace this year, versus 2.1 percent for Canada, according to a survey of economists by Bloomberg.
One explanation for the poor retail numbers in April may have been poor weather in Quebec and Ontario, said Rangasamy, who cited the fact that sales grew in the rest of country outside those two provinces.
"Interpret the results with caution," the Montreal-based economist said.
Derek Holt, an economist at Scotiabank, said poor weather may have even played a role in the price data.
"I strongly suspect that weather played a role in tamping down inflation given softness in classic weather related categories like clothing and tourism," Holt said in a note to investors. " This should be temporary."
And while investors are paring their bets for rate hikes in July, they still expect there will be more to come given the economy remains up against capacity constraints despite the recent weakness. Also, the numbers are still largely in line with the Bank of Canada's own estimates, economists said.
The central bank's last forecasts, released in April, projected second-quarter inflation to average 2.3 percent -- and the numbers are currently on track for 2.2 percent. That's still a lot higher than what the nation has been able to produce recently, with inflation averaging just 1.4 percent between 2015 and 2017.
Swaps trading suggests a 54 percent probability of a hike at the Bank of Canada's next rate decision on July 11, with chances of a second hike by December.
"Yeah, we have some bumps in the data but overall we are running along close to the economy's potential," said Dawn Desjardins, deputy chief economist at Royal Bank of Canada. "We are still good for a hike next month, but it may be a more dovish tone."