What to Watch When the Fed Releases Bank Stress Tests Today
(Bloomberg) -- Expectations are somewhat muted ahead of this year's Federal Reserve exams and capital review, as the stress test scenarios, released in February, were tougher than had been expected. At the same time, U.S. banks will probably all pass, and are likely to lift the amount of money they send to shareholders via dividends and buybacks. Eyes are on smaller banks, which may have better-than-anticipated results and capital plans.
The Fed will release results of Dodd-Frank stress tests (DFAST) Thursday afternoon at 4:30. Comprehensive Capital Analysis and Review (CCAR) results come next week, on June 28, also at 4:30 p.m.; that's when banks make their buyback and dividend announcements.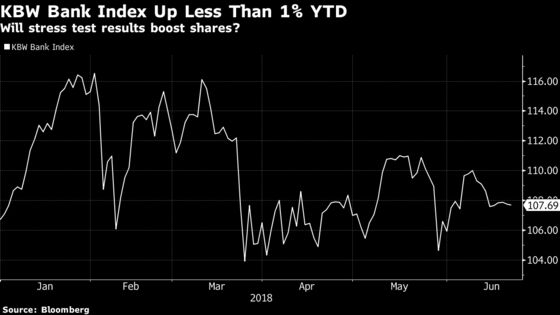 These are the participating banks:
In the U.S.: Ally Financial, American Express, Bank of America, Bank of New York Mellon, BB&T, Capital One, CIT, Citigroup, Citizens Financial, Comerica, Discover Financial, Fifth Third, Goldman Sachs, Huntington, JPMorgan Chase, KeyBanc, M&T, Morgan Stanley, Northern Trust, PNC Financial, Regions Financial, State Street, SunTrust, U.S. Bancorp, Wells Fargo, and Zions.
Non-U.S. firms: Barclays US, BBVA Compass Bancshares, BMO Financial, BNP Paribas USA, Credit Suisse Holdings (USA), Deutsche Bank USA, HSBC North America Holdings, MUFG Americas Holdings, RBC USA, Santander Holdings USA, TD Group US, UBS Americas
Here's a sample of recent analyst commentary:
"We expect today's release of DFAST stress test results to be broadly positive for regional and mega banks as we believe they will pass by wide margins."
"If there are unexpected results, it likely will involve the six foreign banks who are new to the test" -- UBS, RBC, Deutsche Bank, Credit Suisse, BNP Paribas, and Barclays.
"This year's scenarios are harsher, with bigger stress deltas on certain factors like GDP, unemployment, credit card and auto credit losses, and CRE and home pricing. Higher mortgage rates could also make life tougher for banks with bigger MBS books and tax reform could create a headwind as well."
"That said, the banks left money on the table last year and we think there's room to grow payout dollars nicely again this CCAR cycle."
"The biggest banks may be incentivized to lean a little conservative and not 'poke the bear,' given pending CCAR changes." Conversely, smaller banks may "be looking at their last formal CCAR process and thus may be more willing to make big capital return asks."
"Good grades in CCAR exam encouraging but mostly expected. All banks under coverage should comfortably pass the quantitative portion of the stress test with the median total payout ratio set to rise near 100%."
Baird expects Wells Fargo will pull through without a qualitative objection, and Citizens Financial, Huntington, KeyBanc and Zions "should also be viewed as relative CCAR winners with larger total payouts and solid pro forma dividend yields."
"Record industry earnings should lead to record capital return. Planned capital return (dividends and buybacks) should increase by 18% percent ($110 billion to est. $130 billion)" after DFAST and CCAR, "even with a tougher stress test (more severe U.S. downturn) and lower earnings payout."
Deutsche Bank, Matt O'Connor
"The stress test/DFAST/CCAR should be positive for Citigroup."
Bloomberg Intelligence, Alison Williams
"U.S. regional banks may show the largest dividend hikes in anticipated capital-plan announcements after the results of the Federal Reserve's annual stress-test and capital-review process. The results, due this month, may show payout ratios and yields still topping those at universal and trust banks and card lenders."