Wall Street Doesn't Blink on PG&E $2.5 Billion Fire Charge
(Bloomberg) -- PG&E Corp. rose after saying it wouldn't have to raise cash for a $2.5 billion pretax charge tied to a series of devastating fires last year in Northern California wine country.
The utility giant doesn't see any short-term financing needs, including raising equity, after it suspended its dividend late last year, PG&E Chief Financial Officer Jason Wells said on an investor call Thursday. That's a "positive" for PG&E, said Kit Konolige, a Bloomberg Intelligence analyst.
"The market may have been expecting worse," Konolige said in an interview.
PG&E rose 2.3 percent to $40.91 at 1:28 p.m. in New York.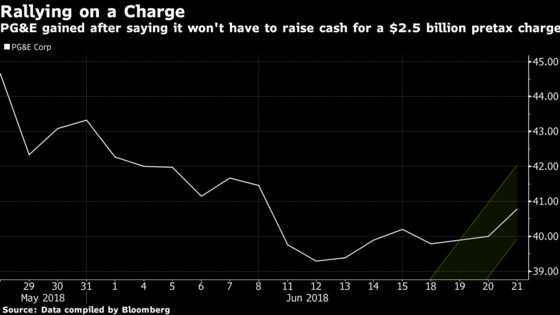 The ultimate cost may prove higher for PG&E, which has seen its market value plunge by about 40 percent since the 2017 fires that, in some instances, were blamed on the utility's equipment. The charge this quarter doesn't include amounts for potential penalties or fines that may be imposed by governmental entities, San Francisco-based PG&E said in a statement Thursday. It's also at the low end of the company's estimate.
"People may be taking some comfort given the size of the company's write-off," said Paul Patterson, a utility analyst for Glenrock Associates. "However, it's early days, and I think one should be cautious in drawing any conclusions as to what the ultimate impact that the 2017 fires will have on this company."
The charge is expected to be tied to some, but not all, area wildfires, including the Nuns and Pocket wildfires in Sonoma and Napa counties, PG&E said in a filing.
PG&E warned in its filing that it may need to issue a "significant amount of equity" in the future "depending on the timing and amount of any claims payments and whether additional charges are recorded."
Continuing Investigations
The charge also doesn't include the most devastating fires, Michael Lapides, an analyst at Goldman Sachs Group Inc., said in a note to clients Thursday. California officials haven't completed their investigation into all of the blazes.
"We note the other 7 remaining wildfires -- Tubbs, Cascade, Atlas, etc. -- represent the events that created the greatest total amount of fatalities and potential damages," Lapides said.
California investigators recently determined that PG&E-owned equipment caused some of the most devastating wildfires that tore through Northern California in October, including the Redwood fire that killed nine. The California Department of Forestry and Fire Protection, known as Cal Fire, blamed PG&E for almost half of an estimated $15 billion in damages.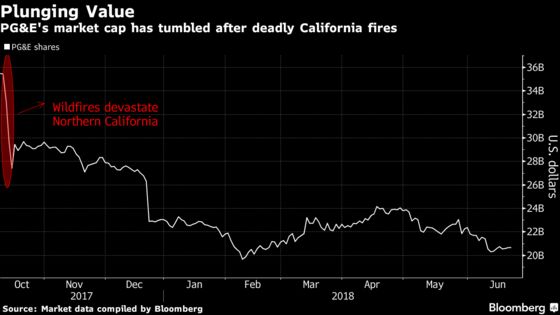 PG&E said it is awaiting Cal Fire's report on the Tubbs fire, the most destructive in state history. The company hasn't reached a conclusion that a loss on the Atlas fire was probable as there were multiple ignition points, John Simon, PG&E's general counsel, said on Thursday's call. In a report, Cal Fire said the Atlas fire, which killed 6, started at two points when a branch and a tree fell onto a PG&E power line. Cal Fire said it found evidence indicating state law had been violated and referred the matter to prosecutors.
The October fires destroyed thousands of homes and killed 44 people. Statewide insurance claims topped $12 billion as of March, according to the California Department of Insurance. Under California law known as "inverse condemnation," utilities may be held liable if their equipment is found to have caused a fire, even if they followed safety rules.
Future wildfires could force PG&E into bankruptcy if lawmakers and regulators don't take steps to limit the company's liability, Jaimin Patel, a senior credit analyst at Bloomberg Intelligence, said in a research note Wednesday.
PG&E Chief Executive Officer Geisha Williams said on Thursday's call that the topic of bankruptcy has come up "periodically" in conversations with California lawmakers in the context of the "the threat that inverse condemnation presents to the financial health" of the state's investor-owned utilities. Williams did not say whether PG&E has any specific plans to file.
"What we're doing is we're working everyday with legislators, helping them understand the broader context for the implications that this very bad policy can have," Williams said.