OPEC Meeting to Wrestle With Lingering Permian `Pandemonium'
(Bloomberg) -- Permian infrastructure constraints have dominated the energy sector conversation on Wall Street, and with OPEC set to meet in Vienna on Friday, don't expect this to change.
With fears of activity slowdowns in the Permian, OPEC may have to consider possible slowing U.S. shale output now more-so than ever. "The Permian region can rightfully claim the title as the single largest balancing force in oil markets today, even arguably more so than OPEC itself," Barclays Bank Plc's energy team said in a note to clients on Thursday entitled "Parsing the Permian Pandemonium."
Geopolitics pushed energy stocks higher earlier in the year, while lingering bottlenecks in Texas have caused some recent re-shuffling. Notably, shares of oil servicer ProPetro Holding Corp. have fallen about 21 percent over the past month, while refiner Delek US Holdings Inc., a beneficiary on Permian concerns, is only down about 1.8 percent over the same period. Goldman Sachs added the stock to its conviction buy list on Thursday.
For exploration and production stocks, investors have favored operators with exposure outside of the Permian, including Bakken-exposed Continental Resources Inc., whose shares are up about 19 percent year-to-date. During JPMorgan Chase & Co.'s energy conference this week in New York, the bank's analysts wrote, "E&Ps leveraged to the Permian are largely maintaining their activity plans, but we did learn of select producers 'tapping the brakes' at the margin," including Halcon Resources Corp. and Marathon Oil Corp.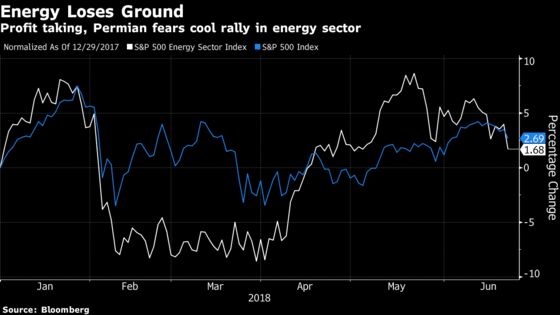 Signals of an OPEC supply boost in Vienna are being eyed around the world, but as Barclays noted, investors will be focused on Permian infrastructure and Permian drilling activity during second-quarter conference calls and into the fall as producers set their budgets.
Energy stocks have been weak on Thursday into the OPEC event, with the S&P 500 energy index falling as much as 2 percent.