Iran Softens Opposition to Oil Output Deal: OPEC Reality Check
(Bloomberg) -- Iran has eased off on its threat to block any agreement between the Organization of Petroleum Exporting Countries and its allies to raise crude production.
In sharp contrast to previous comments, and after sitting down in Vienna with counterparts from several countries, Iranian Minister Bijan Namdar Zanganeh said Wednesday he was optimistic about the outcome of the OPEC meeting. Earlier OPEC's third-largest producer had put itself on a collision course with Saudi Arabia, rejecting a potential compromise that could see a small oil-output increase.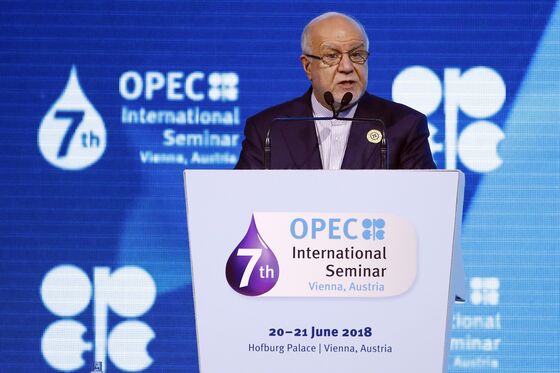 Ministers from Saudi Arabia and the United Arab Emirates held private bilateral meetings with other OPEC members at Vienna's Hofburg palace in an attempt to reach a compromise ahead of Friday's gathering. Arriving on Wednesday morning, a day later than anticipated, Saudi Energy Minister Khalid Al-Falih said "of course" there'll be a deal this week to raise output, ending an 18-month old agreement.
Ecuador also expects a pact to raise supply, but by a smaller amount than the 1.5 million barrels a day Russia has proposed.
"We think some of the restrictions should be lifted, but consensus will be needed to discern at what level this is done," said Ecuador's Minister of Hydrocarbons Carlos Perez. "Probably it will end up being somewhere lower, at around 600,000 barrels a day."
Under pressure from U.S. President Donald Trump, and following talks in Moscow last week, Al-Falih said an increase in output from the group is "inevitable". But after stiff opposition from Iran and Venezuela, which face supply losses and stand to lose out if prices fall, OPEC has also been discussing a 300,000 to 600,000 barrels a day increase.
Production cuts by OPEC and its partners have been a success. The global glut is gone, with commercial crude stockpiles in industrialized countries falling to a three-year low in April, according to the International Energy Agency. The draining stockpiles are a reason oil prices have rallied, which the IEA has said could destroy demand.
Following are the latest positions of most of OPEC, plus non-members Russia and Kazakhstan. The respective shares of supply are based on May output. Estimates for the price each member needs to balance its 2018 budget are from the International Monetary Fund, unless otherwise specified. The compliance rate with each nation's pledged production cut is also for May, according to the IEA.
Price needed: $105.70
Compliance: 98%
Share of OPEC production: 3.3%
Algeria relies almost entirely on oil and gas revenue for hard currency. After struggling to narrow a budget deficit that had ballooned to more than 15 percent of GDP during oil's slump, it started spending again as crude prices rose. The North African nation was one of the key architects of the production-cuts deal, investing a lot of diplomatic effort in bringing together Russia and the other producers in 2016.
Price needed: $78 (RBC)
Compliance: 283%
Share of OPEC production: 4.8%
With debt equivalent to about 70 percent of GDP, according to the IMF, oil prices near $80 a barrel have been good news for Angola. Not so good is the country's production, which has fallen well below its target as aging fields decline. Angola is among several nations that could struggle to boost output if quotas are eased, giving it less incentive to support Russia's push for a large ramp-up.
Price needed: $68.10
Compliance: n/a
Share of OPEC production: 12%
No country illustrates the divide within the cartel more than Iran -- the most vocal opponent of the proposal to boost output. On Tuesday, Oil Minister Zanganeh said an agreement in Vienna was unlikely, since Iran sees "no need" for any increase. He later turned around to say he was optimistic about an outcome. The country's OPEC governor previously criticized Trump for "trying to intervene in the affairs of a sovereign organization." Facing a decline in exports amid renewed U.S. sanctions, Iran could see its market share in Asia and Europe fall if other OPEC members are permitted to raise output.
Price needed: $54
Compliance: 43%
Share of OPEC production: 14%
OPEC's second-biggest oil producer has also said publicly that the group should resist pressure to increase output, saying the supply deal hasn't yet achieved its purpose and Brent crude prices remain below the desired level. Iraq's robust defense of the accord is undermined by its own compliance, which is the worst in the 24-nation group after Kazakhstan.
Price needed: $60.60
Compliance: -1,012%
Central Asia's biggest oil producer has consistently breached its output quota throughout the agreement. In May, Kazakhstan pumped more than 2 million barrels a day for the first time, an increase of 200,000 barrels a day from the deal's reference level as the giant Kashagan oil field continued to ramp up, according to IEA data. Energy Minister Kanat Bozumbayev said in a June 5 interview that "the OPEC+ deal may be reconsidered toward softening."
Price needed: $48
Compliance: 98%
Share of OPEC production: 8.5%
Kuwait is a close ally of Saudi Arabia and has typically followed its lead on OPEC policy. The nation has fulfilled its pledge to cut oil output by 130,000 barrels a day, while also upgrading export facilities to launch a new super-light crude by the end of June. This gives Kuwait the opportunity to pump an additional 220,000 barrels a day if OPEC's production limits are removed, according to the IEA.
Price needed: $132.80
Compliance: n/a
Share of OPEC production: 3.1%
The North African nation was initially exempt from production caps because its oil industry was recovering from a civil war. That allowed Libya to make substantial output gains last year as export infrastructure was restored, stabilizing production near 1 million barrels a day. Supply was disrupted again this month as fighting erupted near two major oil ports, raising questions about its ability to boost output further.
Price needed: $124 (RBC)
Compliance: n/a
Share of OPEC production: 4.6%
Also initially exempt from production caps, Nigeria has struggled to maintain steady output due to militant attacks and leaks from oil pipelines. In May, the country's production fell by 54,000 barrels a day to 1.7 million a day, the biggest decline among OPEC members, according to data compiled by the group's Vienna Secretariat.
Price needed: $40 (Energy Ministry's budget rule)
Compliance: 83%
Russia is the largest non-member to join OPEC's production cuts and, alongside Saudi Arabia, has been the driving force behind the deal. Now, it's a key proponent of lifting output restrictions after President Vladimir Putin indicated he would be happy with an oil price closer to $60. Russia has reduced output by 250,000 barrels a day and state-run companies including Rosneft PJSC and Gazprom Neft PJSC are keen to start new fields that could add 155,000 next year, according to the IEA.
Price needed: $87.90
Compliance: 108%
Share of OPEC production: 32%
OPEC's de-facto leader made a remarkable policy u-turn in the past two months. At a meeting in Jeddah in late April, Al-Falih signaled a desire for higher prices and prolonged cuts. Then Trump started attacking OPEC on Twitter and reimposed sanctions on Iran's oil exports. A month later, the Saudi minister was proposing an output boost to ease consumer anxiety about high prices. This opens Al-Falih to Iranian accusations that he is doing the bidding of the U.S., but the kingdom seems determined to proceed and its output already crept up by 100,000 barrels a day in May, while exports jumped in the first half of June.
Price needed: $223 (RBC)­­
Compliance: 744%
Share of OPEC production: 4.3%
Venezuela has made the deepest cuts, but not through choice. Its crude production continues to plummet as it grapples with an economic crisis, an exodus of staff at state-run oil company Petroleos de Venezuela SA and civil unrest. The IEA predicts the Latin American country will lose 1.1 million barrels a day of output from 2018 to 2019, with the slide accelerating this month as more facilities shut down. Venezuela is opposed to OPEC increasing production.