Intel CEO Krzanich to Relinquish $45 Million by Resigning
(Bloomberg) -- Brian Krzanich stands to lose out on about $45.3 million after resigning as Intel Corp.'s chief executive officer for violating the company's non-fraternization policy.
Krzanich was employed at will, meaning none of his cash or incentive awards were guaranteed in the event he stepped down voluntarily or was terminated for cause. As a result, he'll forfeit about $7.8 million of restricted stock that pays out on a quarterly basis, and $37.5 million in performance equity grants made from 2016 to 2018. The values are based on Wednesday's closing share price of $53.46.
He may still be eligible to get about $6.95 million in deferred compensation, retirement payments and medical benefits, according to the firm's most recent proxy filing.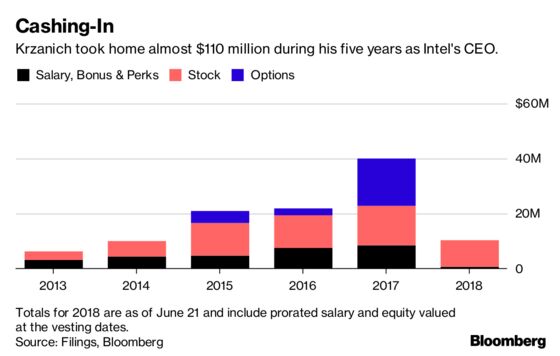 Krzanich received $24.7 million in awarded compensation last year, according to the Bloomberg Pay Index, which values equity at fiscal year end. He took home almost $110 million in salary, bonuses, perks and vested stock and exercised options during his five years as CEO.
Many tech businesses, including Apple Inc. and Amazon.com Inc., employ executives on an at-will basis and don't offer special payouts in case of termination or if the company is bought. According to a statement Thursday, Krzanich resigned after the chipmaker learned the 58-year-old CEO had previously had a consensual relationship with an employee, a violation of the Santa Clara, California-based company's policies.