IHeart Open to Takeover Talks After Rebuffing Liberty Offer
(Bloomberg) -- IHeartMedia Inc., the biggest U.S. radio broadcaster, formally turned down a $1.16 billion bid from John Malone's Liberty Media Corp., but other talks are continuing as the company navigates its way through bankruptcy.
Liberty officially withdrew its bid June 15 after being informed that its offer for a 40 percent stake wasn't enough to satisfy the company or its senior creditors, iHeart said in court filings Thursday.
The broadcaster still has "active conversations with other interested parties" and remains "willing to continue dialogue with Liberty," iHeart said. "It is possible that such efforts result in the debtors obtaining a higher or better offer."
The pursuit of iHeart adds to a media-merger frenzy, as cable and telecom operators look to boost flagging growth by adding content providers. AT&T Inc.'s recent clearance to pursue its proposed takeover of Time Warner Inc. is expected to spur more media deals, with bids for Comcast Corp.'s entertainment assets already topping $71 billion.
IHeart collapsed into bankruptcy this year after a 2008 leveraged buyout overloaded the company with debt that topped $20 billion. But it still ranks as the No. 1 U.S. operator of conventional radio stations, with 850 outlets and stars such as Rush Limbaugh, Ryan Seacrest and Sean Hannity. Based in San Antonio, Texas, iHeart also owns an online music streaming service, a live entertainment division and outdoor billboard advertising.
Greg Maffei, Liberty's chief executive officer, has repeatedly expressed interest in a deal for parts of iHeart and has raised the possibility of a higher bid, citing benefits of combining iHeart's radio unit with SiriusXM Holdings Inc. and Pandora Media Inc.
"We remain interested in the company at the right price," Maffei said on his company's May 9 earnings call. He told investors at a May 14 media industry conference that Liberty offered to buy a minimum 40 percent stake. "We actually offered to buy up to 90-something, but the creditors -- at least, some creditors -- expressed interest in owning the equity with us," Maffei said.
One advantage for Liberty is that it accumulated $660 million of iHeart's debt prior to its bankruptcy filing, paying only $389 million for the stake, according to regulatory filings. That gives Liberty a seat at the table for any restructuring talks, and the bonds could be used as cheap currency for a bid in bankruptcy court.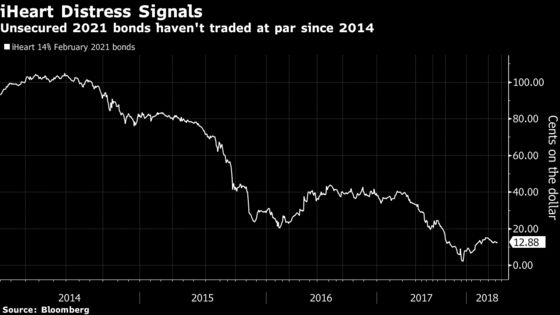 Liberty may be trying to get ownership by building the debt position, said Phil Brendel, the Bloomberg Intelligence analyst specializinig in distressed debt.
"Their feet are already wet," Brendel said. "It wouldn't surprise me if they got bigger in the name so they can exercise more control in the bankruptcy case."
A combination with Liberty could yield operational and strategic benefits, including more than $500 million of annual operational synergies, iHeart said in its filing. The company and its lenders opposed the Liberty deal in part because those savings may not have been passed on to them under the structure of the proposal.
The two companies and their lenders couldn't immediately be reached for comment, but analysts at Cantor Fitzgerald said iHeart probably hasn't heard the last of Liberty.
"We suspect they will be back, but didn't want to be bidding against themselves," said Jason Bernstein and Andrew Thau in a note to investors. They estimated Liberty may own about $1 billion of iHeart's priority guarantee notes, "and, presumably, didn't buy that debt to make 10 points in a restructuring."