Argentina Resurrects Oil Intervention Panic With Cabinet Switch
(Bloomberg) -- Javier Iguacel has left the road for the oilfield, and that may mean a complete about-face on Argentine energy policies.
Iguacel, who'd led Argentina's national road agency since January 2016, was sworn in Thursday as the nation's energy minister at a time when his predecessor's push to sell fuel and oil at market prices is colliding with rising inflation.
Analysts expect Iguacel to quickly cap Argentine crude prices and limit fuel rises. He may also slow a move toward market rates for electricity and natural gas bills, a policy that's been unpopular among voters.
"Clearly, the liberalization of the oil market did not work," Juan Manuel Vazquez, head of equity and credit research at Puente Hnos. SA in Buenos Aires, said in a note. "We expect the government to keep intervening through a combination of capped prices for upstreamers, limits to crude exports, and controlled price increases at the pump."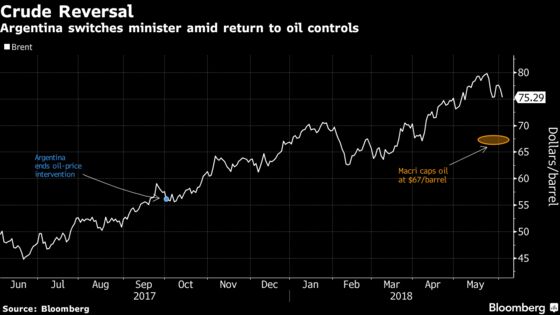 Juan Jose Aranguren, a former executive at Royal Dutch Shell Plc who'd served as energy minister since President Mauricio Macri took office in December 2015, was replaced last week in a cabinet overhaul as the country grapples with a financial crisis.
The crusader for free oil and fuel markets shifted Argentina to full de-regulation in the last quarter of 2017 after a slow convergence between domestically controlled and international prices. But the recent oil rally and devaluation of the peso forced him to temporarily re-introduce controls in May to help Macri's battle against inflation, which is running at more than 20 percent.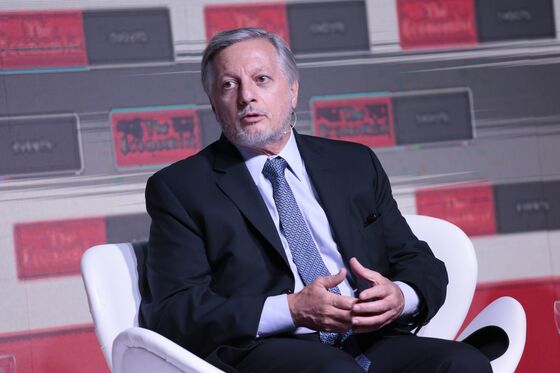 Still, Aranguren, who operated outside Macri's closest circle of advisers, was resisting prolonged intervention, newspaper Clarin reported. "The rest of the economic team felt he was not a real team-player and was also seen radical in his attempt to liberalize the sector," said Daniel Kerner, Latin America director at Eurasia Group.
Iguacel -- who began his career at state-run driller YPF SA before roles at oil service provider Pecom Servicios Energia SA and, in Angola, at Pluspetrol SA -- is expected to bow to Macri's need to intervene heavily in the prices of crude and fuel. He preferred not to give interviews until he's been in the job for longer.
"Our goal is that what Argentines pay for electricity, natural gas and fuel weighs less and less on their pockets," Iguacel said after his swearing in ceremony.
The re-introduction of price controls and the removal of Aranguren have added to negative sentiment toward Argentina's oil sector and YPF, Goldman Sachs analysts led by Bruno Pascon wrote in a research note.
Iguacel is also predicted to slow the pace at which the government moves to market rates for electricity and natural gas bills. Argentina needs to shift away from subsidizing energy consumption to close its fiscal deficit, especially with added pressure from the IMF.
While Aranguren was unwavering in his execution of the policy, analysts expect Iguacel to pause the shift as inflation and keeping voters content take priority. But if the cost-cutting government can't bear the subsidies burden, who will? Companies, says Eurasia's Kerner.