Americans Devote Biggest Share of Income to Mortgages Since 2009
(Bloomberg) -- Time to beg for a raise.
The price of being a homeowner touched a nine-year high in the first quarter, with borrowers in some parts of the U.S. spending half their income on mortgages, according to a report released Thursday by Zillow.
The combination of rising home values and interest rates, and incomes that haven't kept pace, pushed the cost of covering mortgage payments to 17.1 percent of the median income in the first quarter. That's up from 15.9 percent in the previous three months and the highest since the second quarter of 2009.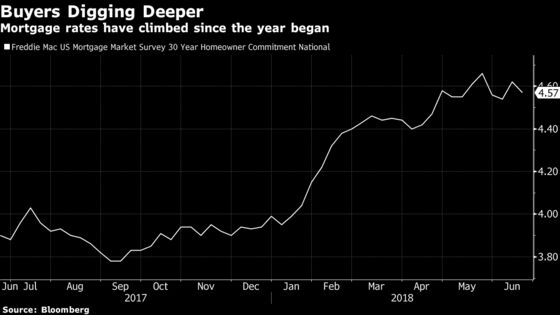 While wages are beginning to rise, home prices have been surging for years as buyers compete for a shrinking inventory of listings. And the average rate for a 30-year fixed mortgage climbed to 4.44 percent at the end of March, up from 3.95 percent at the beginning of the year, data from Freddie Mac show.
"For the past few years, historically low mortgage rates provided the silver lining for buyers as prices rose higher and higher," Aaron Terrazas, senior economist for Zillow, said in a statement. "That affordability edge is getting thinner. In markets that have seen some of the biggest increases in home values, housing costs already take up a larger share of income than they did historically, making it all the more difficult for buyers."
The affordability squeeze is worst on the West Coast, including in the Silicon Valley area, where homeowners spend more than half their incomes on mortgage payments, according to Zillow.
By comparison, 28 percent for the New York metropolitan area sounds downright reasonable.