Xiaomi IPO Has China's Moms and Pops Paying Lei Jun
(Bloomberg Opinion) -- Lei Jun has given a lot to his Chinese fans. Now, it's time for them to return the favor.
Ever since establishing Xiaomi Corp., the 48-year-old has been proud to sell hardware to millions of consumers at cut-rate prices, gifting them cheap phones at the cost of corporate profit. Xiaomi is in the red, yet its direct-sales strategy has rewritten the smartphone business model.
"As a promise to all its users, the company will forever limit the net profit margin after tax for its entire hardware sales (including smartphones, IoT and lifestyle products) to a maximum of 5 percent."
Xiaomi's losses continued into the first quarter after ballooning last year. Its aggressive grab for market share has taken a toll on its bottom line, and a profit isn't likely in 2018.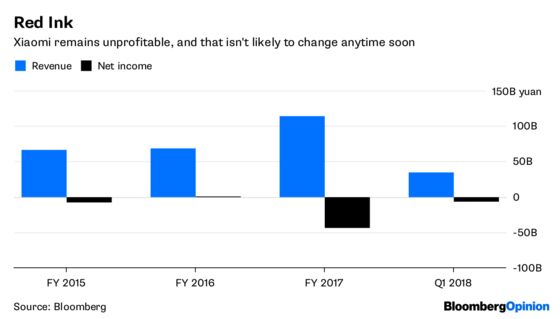 That means no dividends for Lei or his co-founder Lin Bin. An IPO, or private sale, is the only way to realize the paper wealth accumulated via successive rounds of VC funding.
Step one is a Hong Kong share sale.
After years of rejecting dual-class listings, Hong Kong Exchanges & Clearing Ltd. bowed to pressure, paving the way for Xiaomi to become the first in that regard. Lei and Lin are the only owners of Class A shares that hold 10-to-one voting rights over the Class B stock, which is to be listed.
As a result, Lei not only controls more than 30 percent of Xiaomi's economic interests, but 56 percent of its voting rights.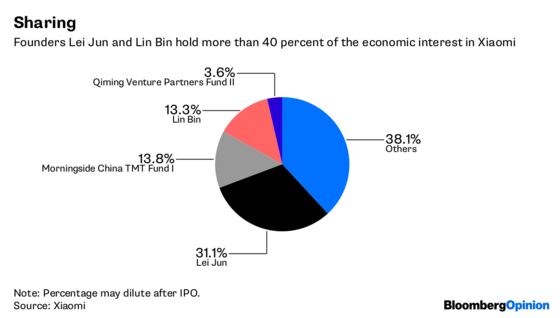 Hong Kong investors are likely to be hot for Xiaomi, with an expected valuation in the $60 billion to $80 billion range. That means Lei's stake would be worth $18 billion to $24 billion. Not bad for the founder of an unprofitable smartphone company that's pledged to cap margins at its biggest revenue driver.
But everyone knows that if you want truly crazy valuations, you need to head to a mainland bourse. The problem is, China's regulators have this annoying little rule where you must have a track record of profitability.
That's where step two comes in.
To lure technology listings, Beijing is about to introduce China depositary receipts. Rules aren't yet set, but it's expected that the profit requirement will be nixed since such firms will already have a primary listing elsewhere.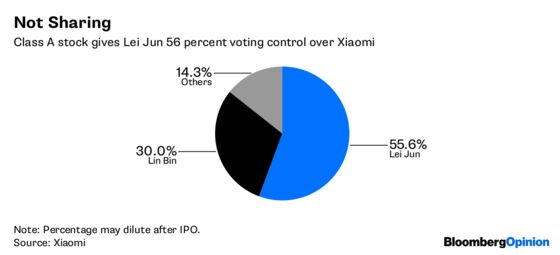 So in a genius one-two maneuver, Lei gets to control his company outright, list it in Hong Kong and tap Chinese retail investors despite Xiaomi remaining abjectly unprofitable. In fact, Xiaomi is set to be the first major money-losing company to list in China in, well, perhaps forever? Ironically, a major reason that Xiaomi will remain in the red for 2018 is the expense of issuing new shares to Lei earlier in the year.
Yet there's little doubt Chinese consumers will go gaga over Xiaomi. Many won't actually know they own it. Earlier this month, the government gave the nod for six funds to raise up to 300 billion yuan ($46 billion) to invest in CDRs — a product that hasn't even hit the market yet.
Early reports indicate that mom and pop investors are keen to throw money at these funds, so when there are finally some CDRs, you can be sure the cash will pour in.
No profit, Lei Jun? No problem. Chinese fans have got your back.