With Fox, Comcast CEO Faces Biggest Decision Since NBC Deal
(Bloomberg) -- It's decision time for Comcast Corp., which faces one of the biggest moments in the cable giant's 55-year-old history.
After Walt Disney Co. raised its offer for 21st Century Fox Inc.'s entertainment assets to $71.3 billion, Comcast Chief Executive Officer Brian Roberts is now mulling how to respond to the escalating bidding war.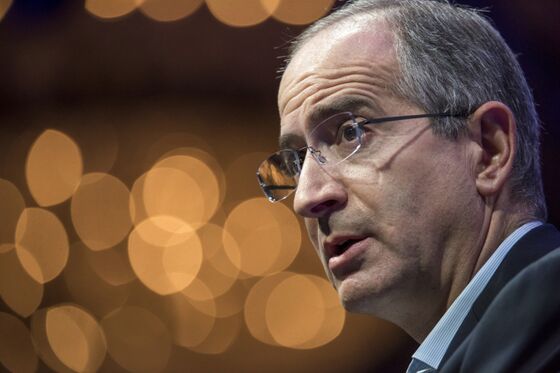 Wall Street is girding for Comcast to counterbid with something around $41 or $42 a share in cash. But that would saddle the company with debt and threaten its credit rating. Disney may have another edge: It's close to winning antitrust approval for its offer, according a person familiar with the matter. Comcast may not be able to offer Fox investors the same assurances.
It all comes down to how badly Roberts wants the Fox properties, a sprawling array of entertainment assets ranging from "The Simpsons" to "X-Men." The 58-year-old CEO could be on the verge of another gambit on the order of his deal to acquire NBCUniversal in 2011 and create a media conglomerate -- one that owns both a cable infrastructure and the TV programming itself.
"Comcast has indicated that they are very serious about this deal," said Jonathan Chaplin, an analyst with New Street Research LLC.
But investors don't share Comcast's enthusiasm. The shares have fallen about 20 percent in the months leading up to the company making a $65 billion bid last week. Now it's contemplating an offer that may have to approach -- or even surpass -- $75 billion.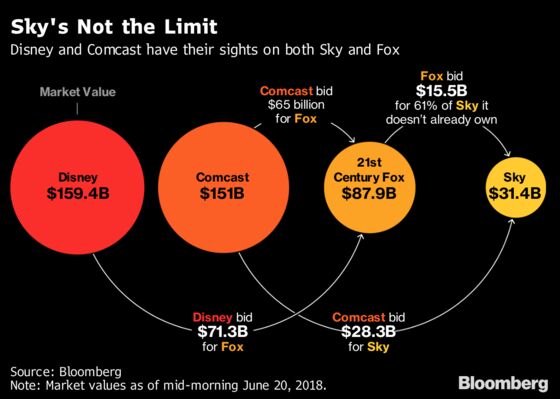 "The market doesn't think this is a good idea," Chaplin said. "Comcast has lost $32 billion since they entered the bidding process."
Comcast has sought to break up a deal between Fox and Disney that was hammered out in December. The two sides initially agreed to a price of about $28 a share, and then Comcast countered with $35 last week.
Rather than pursuing negotiations with Comcast, Fox reached a fresh agreement with Disney on Wednesday. The $38-a-share price is about $10 a share higher than what Disney laid out in December. It also lets investors collect half the sum in cash, rather than the all-stock terms offered in the original proposal.
The duel follows AT&T Inc.'s victory over the U.S. Justice Department in its antitrust battle to take over Time Warner Inc. That outcome is expected to spur a wave of media consolidation, emboldening companies to get more aggressive with deals.
The Disney-Comcast contest will determine who controls much of Rupert Murdoch's empire, including Fox's movie and TV studios, television networks such as FX, and multichannel providers like Star India and Sky Plc.
But the two sides aren't vying for all of Fox. Part of the business will be used to create an entity called "New Fox," which will include the highly lucrative Fox News, the sports channels FS1 and FS2, and the Fox broadcasting channel. That operation will be run by Lachlan Murdoch and focus on domestic television, news and sports.
Meanwhile, there's a separate -- yet intertwined -- fight for Sky, the British pay-TV company. Fox has attempted to acquire the portion of Sky that it doesn't already own, but Comcast swooped in with a higher bid.
The tussle has helped propel shares of both Fox and Sky this year. Fox is up 41 percent in 2018, including a 1.2 percent gain on Thursday. Sky climbed 1.3 percent in the latest session, bringing its advance this year to 38 percent.
If Comcast gets stymied in its bid for Fox, there's a greater chance it will pay more to hold onto Sky, said Claire Enders, founder of media research firm Enders Analysis.
"I think the market is expecting another move from Comcast" for Sky, Enders said.
There could be another consolation prize for the company that doesn't acquire Fox: Sony Pictures Entertainment. That business has a film studio and global cable networks, Gamco Investors Inc. portfolio manager Larry Haverty told CNBC. Indeed, Sony Corp.'s American depositary receipts climbed on Wednesday in anticipation of such a deal.
In any case, Comcast isn't likely to go away quietly.
Comcast's current $65 billion cash offer for Fox -- along with the potential Sky deal -- was already expected to push its debt load to $170 billion, according to Moody's Investors Service. That leaves Roberts with a tough decision, said Bloomberg Intelligence analyst Paul Sweeney.
"The ball is now in Brian Roberts's court," he said.