Thailand Bucks Southeast Asia Trend by Keeping Rates on Hold
(Bloomberg) -- Thailand's central bank left its benchmark interest rate unchanged near a record low, bucking a regional trend as more central banks tighten policy amid a global emerging-market rout.
Five of the six monetary policy committee members present at the meeting voted to hold the one-day bond repurchase rate at 1.5 percent, where it's been since 2015, according to a statement on the Bank of Thailand's website on Wednesday. One MPC member voted for a 25 basis-point hike. All 22 economists surveyed by Bloomberg predicted the rate would stay on hold.
Thailand has fared better than most of its regional peers as rising U.S. interest rates and a stronger dollar prompt investors to dump higher-risk assets. In Indonesia and the Philippines, central banks have stepped up action to stem an outflow of foreign capital and bolster their currencies. With Thai foreign reserve buffers of more than $200 billion and a large current account surplus, authorities say they don't need policy tightening just yet.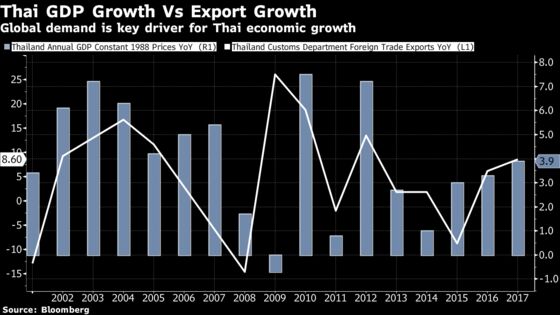 The central bankers on Wednesday raised their 2018 GDP growth forecast to 4.4 percent from 4.1 percent, pointing to stronger exports and tourism and recovering private demand. They marked up 2019 to 4.2 percent from 4.1 percent. The 2018 headline inflation forecast was raised to 1.1 percent due to the uptick in oil prices, while core CPI remained at 0.7 percent.
"The MPC views that we have a strong cushion against global volatility" even as U.S. trade policy and its effects remain a risk for Thailand, Assistant Governor Jaturong Jantarangs told reporters after the decision. "This allows us to focus on local factors in monetary policy."
The baht has slid 0.7 percent against the dollar this year, compared with a 6.6 percent slump in the Philippine peso and a 2.6 percent drop in the Indonesian rupiah. The Philippine central bank raised its benchmark rate for a second month on Wednesday.
In Thailand, monetary policy stability is helping to support a pick-up in economic growth as exports climb and consumer spending strengthens. Growth reached a five-year high of 4.8 percent in the first quarter. Inflation climbed to 1.5 percent in May, staying inside the central bank's target range of 1 percent to 4 percent for a second month.