Tether Hired Former FBI Director's Law Firm to Vet Finances
(Bloomberg) -- Tether Ltd., issuer of a digital currency, said its bank deposits of $2.55 billion were confirmed by the law firm co-founded by FBI director Louis Freeh as the company seeks to reassure investors that its cryptocurrency is backed by U.S. dollars.
Freeh Sporkin & Sullivan LLP didn't conduct an official audit but had access to Tether's accounts at two banks for weeks and released data on how much money the company held on a single day, June 1, Tether's general counsel said in an interview. That amount is nearly equal to the value of all Tether digital coins in circulation that day, $2.54 billion, according to Tether executives who spoke to the law firm.
Those numbers should be close because Tether is designed as a 1-for-1 substitute for U.S. dollars -- a means of providing an easy way for crypto traders to swap into a stable digital currency. Tether has been dogged by speculation that the money isn't actually there -- a concern that persisted among skeptics even after an accounting firm, Friedman LLP, did an analysis last year of Tether's finances similar to this new review. The U.S. Commodity Futures Trading Commission subpoenaed Tether in December to investigate the situation, Bloomberg News reported in January.
"The bottom line is an audit cannot be obtained," Stuart Hoegner, Tether's general counsel, said in a phone interview Tuesday. The cryptocurrency market looks too nascent for large accounting firms to consider taking on clients who offer digital coins, he added.
"The big four firms are anathema to that level of risk," he said in the interview. "We've gone for what we think is the next best thing."
FSS picked June 1 as the day to analyze without Tether's knowledge, the law firm said in its report released Wednesday. It was given online access to Tether's bank accounts, statements and to employees at the financial institutions, Hoegner said, adding that he can't name the two banks, in part due to privacy concerns. "Banking relationships are private," and as a non-public firm Tether has no requirement to name them, he said.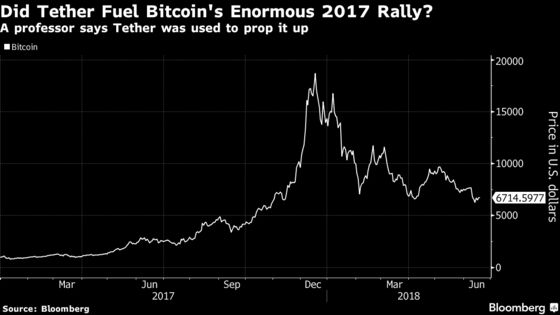 Tether serves as a kind of glue holding together much of the cryptocurrency market around the world. Most banks, fearing money laundering and other shenanigans, have steered clear of the business, meaning Tether provides a stable value in place of the dollar wherever bank accounts are difficult or impossible to get. An interruption or collapse of Tether would make it tough for many crypto traders to cash out.
The FSS report came out a week after a professor said Tether was used last year to artificially support the price of Bitcoin. In a research paper, John Griffin of the University of Texas said he's found a pattern of Tether being spent on Bitcoin in ways that could manipulate the world's first digital asset.
Tether Chief Executive Officer JL van der Velde denies that any manipulation is taking place. "Despite speculation, we have consistently stated that Tether is backed by USD reserves at or exceeding the Tethers in circulation at a given moment, and we're glad to have independent verification of this to answer some of the questions posed by the public," he said in an emailed statement.
Although FSS didn't name the banks Tether is using, it did note that Eugene Sullivan, one of the law firm's partners and a former federal judge, is on an advisory board for one of them. Its investigation also relied on phone and in-person interviews with Tether executives and bank representatives to reach its conclusions.
The law firm included several caveats to its findings. "FSS is not an accounting firm and did not perform the above review and confirmations using Generally Accepted Accounting Principles," according to its report. "FSS has not performed any procedures or made any conclusions for activity prior to or subsequent to June 1st, 2018, Close of Business."
The firm added: "FSS has assumed, without further inquiry, that the bank personnel providing the confirmations were duly authorized to provide such confirmations, and that the confirmations were correct."
Friedman LLP, the accounting firm previously retained by Tether, included similar disclaimers in its own report in September on the crypto company's finances. Friedman was also subpoenaed by the CFTC as part of its Tether investigation, according to a person familiar with the matter.