Spotlight on Australia as Banks Fuel Rally to Highest in Decade
(Bloomberg) -- The past few days have been tumultuous for global equities, but Australia turned out to be one of the rare bright spots.
Investors in the market have witnessed some of the world's biggest stock gains over the past four days, with the S&P/ASX 200 Index surging to its highest level since January 2008 on Wednesday. Financial firms, which account for about a third of the benchmark gauge, fueled the rally, rebounding 5.2 percent from a 1 1/2-year low after a Federal Reserve rate hike and a decision by the European Central Bank to phase out asset buying.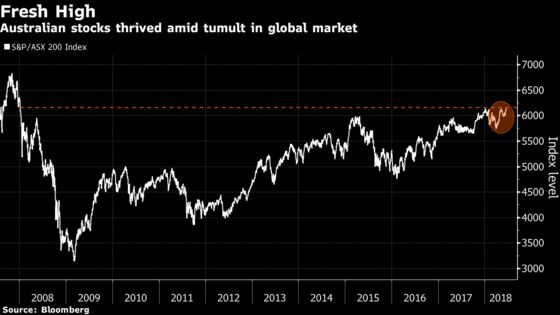 Here's where the market stands:
While the S&P/ASX 200 Index's jump in recent days has been spectacular, the measure remains 9.6 percent below the record it reached in November 2007. Its 96 percent rebound from the March 2009 low pales next to the three-fold surge in the MSCI All-Country World Index.
With a valuation of 15.5 times estimated earnings, Australia's benchmark gauge still trades around its five-year average.
Tony Brennan, head of Australian equity strategy at Citigroup Inc. in Sydney, sees the index rising another 5.3 percent to 6,500 by the end of the year, thanks to earnings growth at commodity producers.
While everybody keeps a close eye on the trade discussions between the U.S. and China, here is what market watchers are saying about Australia:
"There's been a few shots on the trade side, but nothing has fully broken out," said Dermot Ryan, a fund co-manager at AMP Capital in Sydney. "Ultimately, the stock market looks at the valuation and health of the sectors. The resources sector is in rude health at the moment."
"Australia sometimes acts as an EM by proxy, but with one key difference: it's not as sensitive to the potential negative impact from increasing tariffs on Chinese and U.S. goods," said Kerry Craig, global market strategist at JPMorgan Asset Management in Melbourne. "We're not as crucial in the supply chain as many north Asian economies. While there would be some impact on the materials sector if Chinese growth was expected to take a hit and metals demand fell, it's more than likely that China would respond by increased infrastructure spend to keep the ship steady."
"The banks look pretty cheap," for a longer-term investor, said Don Hamson, managing director at Plato Investment Management in Sydney. "It's been a bad 18 months, but maybe we're coming toward the end of it."