Small Step for Europe, Giant Leap for Merkel: Balance of Power
For Angela Merkel, the flak is coming from all sides.
Donald Trump launches a fresh attack each week, Italian populists are sniping at EU trade policy, and her own interior minister is staging a rebellion over immigration.
And despite all that, the German chancellor yesterday reached an outline deal with France's Emmanuel Macron to take the European project forward.
At a meeting outside Berlin, the two leaders agreed to set up a euro-zone budget and beef up the role of the euro-area bailout fund, adding heft to their half-finished currency union. They also moved to bolster controls on migrants. A day earlier, the European Union started trade talks with Australia, in defiance of the growing drumbeat of protectionism.
The Franco-German deal is not the full package that unelected idealists like the European Central Bank's Mario Draghi have been calling for. They postponed decisions on a common insurance scheme for bank deposits and they haven't said how big the new budget will be. And they still need the support of EU partners, including the truculent Italians.
But a German leader pledging deeper fiscal integration with the rest of Europe is a major step — for the budget hawks in Berlin who the chancellor has to keep onside most of all.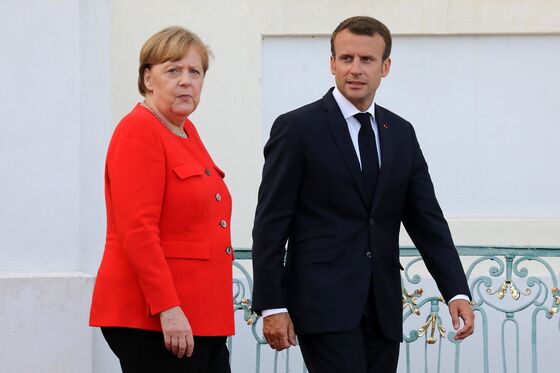 Silence speaks volumes | Treasury Secretary Steven Mnuchin is signaling his displeasure with Trump's trade war with China by saying nothing at all, Saleha Mohsin exclusively reports. Mnuchin decided silence was his best option after losing an internal White House battle last month to protectionists as the president considered tariffs on China. Click here for more on how Trump's steel tariffs are boosting his appeal in a key region.
Profiting from separation | The Trump administration plans to pay a Texas nonprofit called Southwest Key Programs nearly half a billion dollars this year to care for the immigrant children it's detained crossing the border without documents. Late yesterday, amid growing outrage over his policy of separating undocumented families, Trump backed two Republican immigration bills that would end the practice. Yet those measures' prospects remain uncertain.
Brexit cliffhanger | U.K. Prime Minister Theresa May is taking on the faction in her Conservative Party that's trying to keep Britain as close to the EU as possible after the divorce. At stake is whether Parliament can overrule her if a no-deal scenario materializes. It will come to a head in a knife-edge vote this afternoon that she could lose.
China's bargaining chip | Kim Jong Un's visit to Beijing this week illustrates how Trump's tariff threats against China could spiral into broader tensions between the world's two largest economies. North Korea remains a key bargaining chip for Xi Jinping, and using it could become tempting as the U.S. grows increasingly confrontational on everything from trade to Taiwan. Xi told Kim that China's support for its neighbor remains unchanged.
Death rattle | If South Africa's new president, Cyril Ramaphosa, didn't have enough on his plate with a divided ruling party and a sluggish economy, now the country's gold industry, once the world's biggest, is in critical condition. Ana Monteiro and Felix Njini report from the town of Carletonville, where mines are closing and dismissed workers are pushing the nation's 28 percent unemployment rate even higher.
The Trump administration withdrew the U.S. from the United Nations Human Rights Council, saying it's biased against Israel. The panel opened its session yesterday criticizing the U.S.'s treatment of migrants and will review a report this week that says Trump's policies are worsening economic inequality.
The president will pressure Republican senators at a White House meeting today to save Chinese telecommunications giant ZTE, urging lawmakers to soften a bill provision that would restore economic sanctions on the company.
And finally ... It's getting to be a bit of a habit for Emmanuel Macron. The French president dressed down a teenager on Monday in Suresnes near Paris for greeting him with "How's it going, Manu?" Macron replied, "You address me as Mr. President of the Republic or sir, OK?" As Le Figaro notes, the 40-year-old president has a history of lively exchanges with people at public events. In 2016, when he was economy minister, he told a t-shirt-wearing opponent of labor-law reforms to, essentially, buy a suit and get a job.