South Africa Inflation Eases; Food Costs Up Least Since 2013
(Bloomberg) -- South Africa's inflation rate fell in May as food prices rose at the slowest pace since 2013, reducing chances that the central bank will increase interest rates later this year.
Consumer prices climbed 4.4 percent from a year earlier compared with 4.5 percent in April, Pretoria-based Statistics South Africa said Wednesday in a report on its website. The median estimate in a Bloomberg survey was 4.6 percent.
Prices of food and non-alcoholic beverages climbed 3.4 percent from a year earlier, the least since December 2013. That helped curb the inflationary effects of a third straight month of rand weakness in May.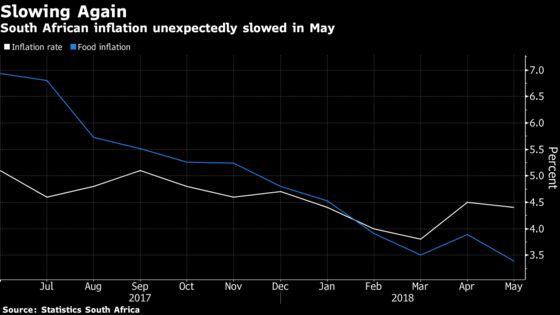 The price of oil, which climbed to the highest since 2014 last month, poses a threat to the inflation outlook and the central bank sees an upside risk to its crude-cost assumptions, Governor Lesetja Kganyago said May 24, when he held the benchmark rate at a two-year low of 6.5 percent. It targets inflation in a range of 3 percent to 6 percent.
The rand's plunge to the weakest in almost seven months against the dollar this week may push up inflation and require interest-rate increases, central bank Deputy Governor Kuben Naidoo said in an interview with Bloomberg TV Tuesday. While the bank doesn't target a specific level of the rand, it responds to second-round effects on prices from currency weakness, he said.
"It's correct that they sound hawkish because that helps to anchor inflation expectations," Gina Schoeman, an economist at Citigroup Global Markets, said by phone. "The SARB is not going to hike rates until it's convinced that it absolutely has to. You can't pass through high inflation if consumers cannot accept it, if they don't have the spending power."
Forward-rate agreements, which are used to speculate on interest rates, show the market expects the key interest rate to be 24 basis points higher in six months.
Core inflation, which excludes the price of food, non-alcoholic beverages, energy and gasoline, was 4.4 percent in May.
The rand strengthened 0.5 percent to 13.6786 per dollar by 11:52 a.m. in Johannesburg.