Philippine Central Bank Chief Builds Case for Another Rate Hike
(Bloomberg) -- Philippine central bank Governor Nestor Espenilla laid out the case for another interest rate increase, citing broadening price pressures, tighter U.S. monetary policy and a currency slump.
While Espenilla stopped short of saying that a rate hike is on the cards on Wednesday, he said in an interview with Bloomberg Television's David Ingles in Tokyo that Bangko Sentral ng Pilipinas aims to anchor inflation back to its target next year. Espenilla flagged concerns about second-round effects should wages and transport fares rise.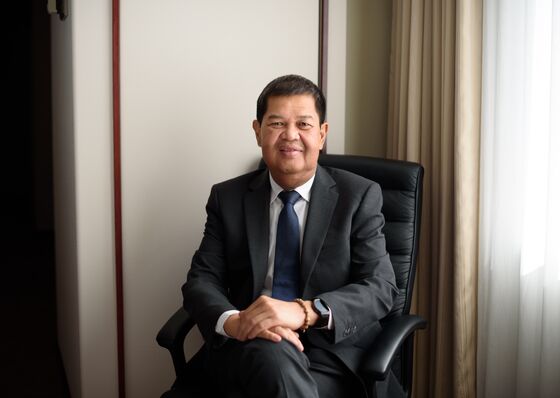 The policy meeting "is another opportunity to take a look at the situation, whether in fact there's scope to strengthen our signal that the BSP is intent on securing the return to its inflation target and to see a more orderly trading in the exchange market," Espenilla said on Tuesday.
"Interest rates seem to be on the way up and this has an implication on emerging markets like the Philippines," the governor said. Capital that flowed in quickly during the years that central banks in advanced economies pumped liquidity into global markets "may potentially reverse," he said.
Eleven of the 17 economists surveyed by Bloomberg predict the benchmark rate will be raised by another 25 basis points to 3.5 percent on Wednesday while the rest expect no change.
Joey Cuyegkeng, an economist in Manila at ING Groep NV, sees more rate hikes after Wednesday's expected move.
"Monetary policy makers have to keep that door open especially with the tightening not just by the Fed but by the ECB as well so that global liquidity conditions will gradually tighten," Cuyegkeng said. "There's still some scope or need for the central bank to effect further increases. Otherwise, the market will continue to factor in a less hawkish stance and we'll see that in the exchange rates."
Earlier on Tuesday, Espenilla told a forum in Tokyo that policy makers are ready to adjust rates further while Economic Secretary Ernesto Pernia told Bloomberg TV in a separate interview that an increase in the key rate "may be warranted at this time."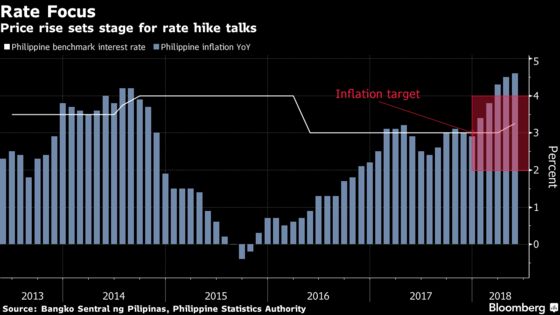 Inflation is running at a five-year high and the peso, the region's worst performer, has lost more than 6 percent against the dollar this year, in part because some analysts say Bangko Sentral was slow in raising rates after price growth already accelerated. A swelling trade deficit is also dragging down the peso and spurring a sell-off in the nation's stock market.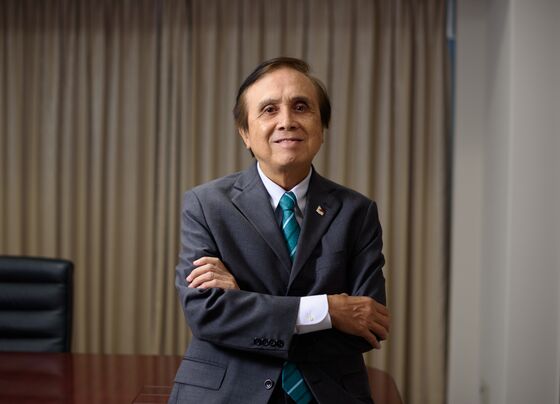 Espenilla reiterated the Philippines isn't behind the curve on policy tightening, and said the central bank has a track record of meeting its price targets in the past. Missing the top-end of the goal this year is a one off, he said, adding "the BSP has shown that is has both the will and the ability to raise policy rates whenever it is necessary."
The peso rose 0.2 percent to 53.34 against the dollar as of 9:20 a.m. in Manila on Wednesday, gaining for a second day after a six-day slump.
"While the peso is generally market-determined, we're also looking at the monetary policy side," Espenilla said in the interview. During the forum, he said the BSP "is ready to act to prevent excessive peso volatility and overshooting due to speculative activities."
The pick-up in inflation is temporary, Finance Secretary Carlos Dominguez said at the same briefing in Tokyo, where policy makers are meeting investors ahead of a planned sale of up to $1 billion worth of Samurai bonds which could happen as early as July.
"We do not expect the elevated inflation rate to become permanent," he said. The inflationary trend is "normal" for a fast-growing economy, and is being worsened by rising oil prices, he said.