Goldman's Solomon Says China Escalation May Hit Investments
(Bloomberg) -- Goldman Sachs Group Inc. President David Solomon said clients may scale back investments if the trade tensions between the U.S. and China get worse.
"People are watching it," Solomon said Wednesday in an interview on Bloomberg TV. "The implications if this escalated to an all-out trade war, there'd be implications on market activity, there'd be implications on investment, there'd be implications both here in China and for U.S. clients."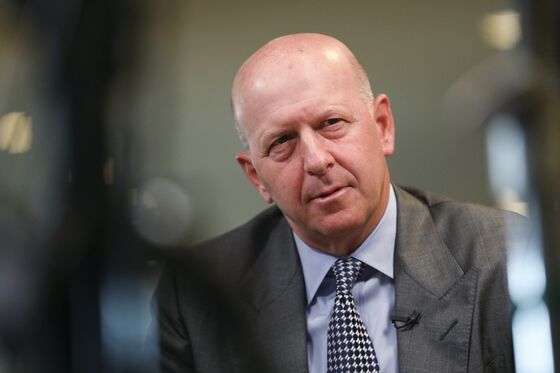 A trade battle is escalating between the world's two biggest economies as China vows to retaliate against new U.S. tariffs. President Donald Trump is targeting $200 billion in additional Chinese imports, a move that could push up prices for U.S. shoppers on items such as toys, tools and t-shirts.
The Trump administration's tariff threats against China make sense as a bargaining strategy and probably won't bring about a devastating trade war, Goldman Sachs Chief Executive Officer Lloyd Blankfein said on Tuesday.
Goldman Sachs has been investing in China for a "long time" through Goldman Sachs Gao Hua Securities Co., a joint venture with Fang Fenglei's Gao Hua Securities Co., he said. The U.S. bank is "moving toward" a 51 percent ownership stake in the venture and is still "hopeful" that it can take it to full ownership over time, after Chinese authorities took steps to open the market further, Solomon said.
"We're moving forward with our application process," he said. The bank is "optimistic about the prospects we have" in China.
Solomon added that an escalation of the trade spat was one risk to an otherwise strong U.S. economy, with a faster-than-expected normalization of interest rates being the other potential danger.
The "U.S. economy is doing quite well" and that should "continue for some time" if those scenarios don't materialize, Solomon said. Still, a further escalation of the trade dispute could affect sentiment and markets, he said.
Solomon, 56, was named in March as the sole president under Blankfein, identifying him as a clear front-runner for the CEO spot.