EU Can Toughen Its Emissions-Cut Target Under Paris Climate Deal
(Bloomberg) -- The European Union signaled it can exceed its 2030 emissions-reduction goal and submit a more ambitious plan to cut greenhouse gases by "slightly over 45 percent" under the Paris Agreement to fight climate change.
The announcement was made by EU Climate and Energy Commissioner Miguel Arias Canete on Wednesday in Brussels at the start of a gathering of ministers from the 28-nations bloc, Canada and China before the next round of global talks to lower emissions. This year's negotiations, known as COP24, will be held in EU member state Poland.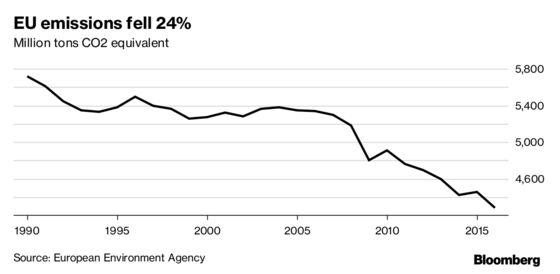 Europe, which aims to lead the fight against global warming, submitted a target to reduce greenhouse gases by "at least 40 percent" as a contribution under the Paris deal in 2015. After representatives of national governments and the European Parliament agreed earlier this month to pursue more ambitious renewables and energy efficiency targets, the headline emissions goal will effectively be higher, Canete said.
"Both the new targets would de facto mean that the European Union would be in a position to raise the level of ambition of our Nationally Determined Contribution and increase our emission-reduction target from the current 40 percent to slightly over 45 percent by 2030," he told the ministerial conference.
A change of the EU plan under the Paris Agreement would need support by the bloc's ministers, possibly at their quarterly meeting in October. Such a move wouldn't automatically mean a change to the European legislation on the headline 2030 emissions-reduction target, which was unanimously approved by heads of government in 2014.
EU policy makers reached on Tuesday a preliminary deal to boost energy savings by 32.5 percent by the end of the next decade, compared with a goal of 30 percent proposed by the European Commission. On June 14, they agreed to increase the objective for renewables to 32 percent of energy consumption from at least 27 percent sought by the commission.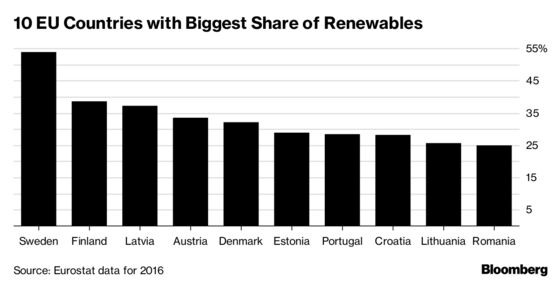 An analysis by the commission earlier this year showed that a drop in wind and solar energy costs means the EU can aim to increase its renewables target to 30 percent without boosting expenditures needed to meet it. It would also mean a faster reduction of carbon discharges in the EU Emissions Trading System, the bloc's cap-and-trade program that imposes pollution caps on around 12,000 facilities owned by power producers, airlines and industries from steel to cement makers.