Turkey's Capital Flight Problem Is Getting Worse - in 5 Charts
(Bloomberg) -- Turks are joining foreign investors in shifting their assets -- and in many cases themselves -- out of the country amid fears for their money and security should President Recep Tayyip Erdogan win more power at an election on June 24.
In 2017, 12 percent of Turkey's millionaire population left, according to research by South Africa-based New World Wealth, which has been tracking such migrations across the world since 2013. Foreign diplomats in Turkey report large increases in requests for investor and student visas. And it's not just the super-wealthy who are leaving anymore, they say: middle-class Turks are selling homes and other assets to buy businesses or real estate abroad to try and provide a better life for their families.
Still more Turks are expressing their concern for the future by moving money rather than moving homes. The charts below show how capital flight in Turkey is in full swing.
Turkey lost more than 5,000 high net worth individuals (HNWI) for a second year running, with about 6,000 leaving in 2017, according to New World Wealth. Only China and India, the world's two most populous countries, saw more millionaires abandon ship. "These outflows are very concerning as Turkey is not producing many new HNWIs to replace the ones that are leaving," the report said. It almost goes without saying that "losing HNWIs is normally a very bad sign and generally shows serious problems in a country," it said.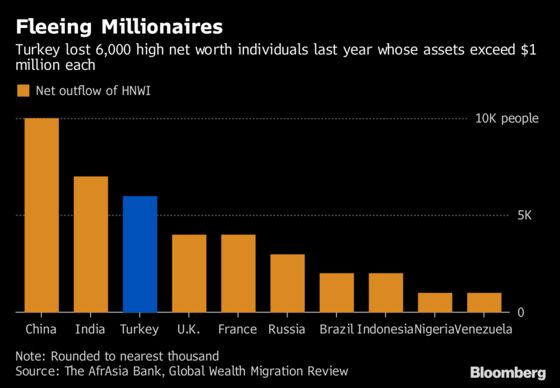 Political and economic strains are also taking their toll on direct investment, the most prized form of foreign investment because it's generally less susceptible to short-term swings in confidence. But net FDI has dropped to 2009 financial crisis levels, as Turks spend more on factories and other long-term investments abroad, while foreigners invest less in Turkey, or even uproot existing investments there. That leaves the nation more dependent on so-called "hot money" -- flows into stocks and bonds that can be withdrawn at a moment's notice.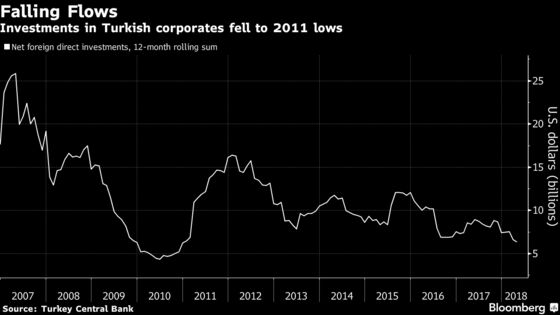 But the picture on the bond and equity front isn't great either. Foreigners bought just $118 million worth of Turkish equities and government bonds in net terms this year, a drop of 97 percent from the same period last year. The outflow from equities has helped push the benchmark Borsa Istanbul 100 index down 35 percent in dollar-adjusted terms so far in 2018, while the reduced support from foreign buying in the bond market has led yields on 10-year Turkish bonds to surge to a record high of over 17 percent.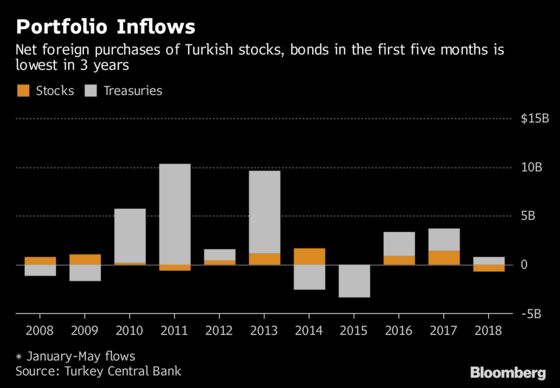 Another aspect of Turkey's capital flight is the mass move out of lira savings and into dollar and euro accounts. According to central bank data, foreign currency deposits in banks have sharply increased as local confidence in the lira plunged. The lira has lost more than 60 percent of its value against the dollar and 50 percent against the euro over the last five years. The switch into foreign currencies has happened despite repeated admonitions from Erdogan for citizens to keep savings in lira accounts. More than half of the banking system's total deposits are now in foreign currency.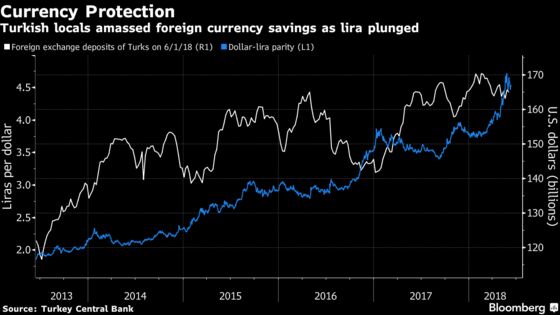 The recent plunge in the lira has come at an awkward time for Turkey's companies, who had increased their foreign currency borrowing last year after the central bank made it more expensive to borrow lira.
When the lira fell below four to the dollar for the first time, in April 2018, the foreign debt owed by Turkish corporations maturing in less than a year was $125.5 billion -- a three-year high, according to official figures. That'll become more and more difficult to repay if authorities don't find a way to restore confidence and turn the lira around.