Tesla and GM Are Collateral Damage in Trump-Versus-Xi Trade War
(Bloomberg) -- Tesla Inc. and General Motors Co. are caught in the middle of a collision between U.S. President Donald Trump and his China counterpart Xi Jinping.
Tesla shares plunged as much as 6.6 percent, the biggest intraday drop in more than six weeks, while GM slumped as much as 4.1 percent after China vowed to "forcefully" retaliate against Trump's threatened tariffs on another $200 billion in imports from Asia's largest economy.
The carmakers are among the companies with the most to lose if Trump ups the ante on the tariffs placed on $50 billion of goods announced last week. GM has for years vied with Volkswagen AG to be the biggest foreign automaker operating in China, while Elon Musk's electric-vehicle manufacturer has been rapidly expanding sales and in talks for months with the Shanghai government about opening its first assembly plant in the country.
"China could retaliate against U.S. President Donald Trump's tariffs on Chinese goods with a full-blown boycott of American automobiles in the nation," said Steve Man, a senior autos analyst for Bloomberg Intelligence in Hong Kong. Protectionist U.S. levies "could derail automakers' plans to open new manufacturing and export bases in China."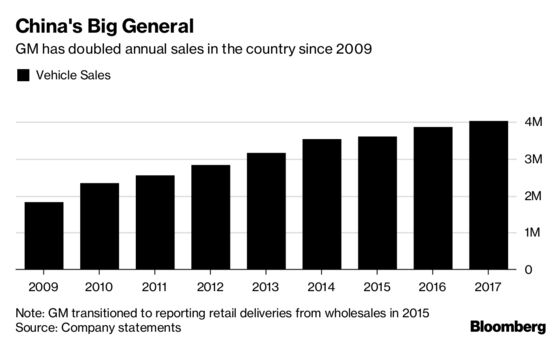 Xi's options to squeeze Trump by hurting American companies extend beyond retaliatory tariffs. The government has pressured companies before through bureaucratic means, such as by imposing customs delays, tax audits or increased regulatory scrutiny.
This is "a practice that the Chinese have used for a long time, and our companies are on guard," William Zarit, chairman of the American Chamber of Commerce in the People's Republic of China, said on Bloomberg Television. Albert Xie, GM China's vice president of public policy and government relations, is on the chamber's board of governors, according to its website.
South Korea's Hyundai Motor Co. and Japan's Toyota Motor Corp. have felt the ill effects of their countries' run-ins with China in the past.
Consumers shunned cars from Hyundai last year following Seoul's decision to deploy an anti-missile system that China opposed. Toyota, Nissan Motor Co. and Honda Motor Co., meanwhile, suffered major declines in their sales in 2012 amid heightened tensions over disputed islands in the East China Sea. Protesters went so far as to burn down a showroom in the eastern port city of Qingdao.
Any pressure from the Chinese government would come at a bad time for Detroit-based GM, which has momentum in China thanks to growing sales at both Cadillac and its lower-priced Baojun brand.
GM may be insulated by its long history in China and its close ties to the government beginning with its 21-year-old joint venture with state-owned SAIC Motor Corp., which operates eight vehicle and four powertrain plants as well as design and development facilities. The two companies build and sell mini-trucks, minivans and budget cars through a three-way venture with Guangxi Automobile, formerly known as Wuling Motors. GM also has had a commercial vehicle venture with state-owned FAW Group Corp. since 2009.
Of course, joint ventures with Chinese automakers didn't spare Korea's Hyundai or Japan's Toyota, Nissan and Honda from harm. And a hang-up to Palo Alto, California-based Tesla's negotiations to build a car- and battery-making plant in Shanghai has been Musk's desire to operate a wholly owned factory, people familiar with the matter have said.