OPEC's Supply Wildcards Elevate Risk of Wrong Call in Vienna
(Bloomberg) -- As OPEC meets to decide whether to increase oil production, the market is focused on the fear that Iran could block a deal. Yet risks are also lurking in a successful outcome to the talks.
Saudi Arabia, the group's biggest member, is intent on reviving crude production as global inventories shrink, prices near $80 a barrel threaten economic growth, and fellow producers Iran and Venezuela face potentially massive supply losses.
Deciding the right amount to add will require a tough call on how much sanctions will cut Iran's exports, and whether the crisis in Venezuela will worsen. Getting it wrong could flood world markets with unwanted supplies, a mistake the Organization of Petroleum Exporting Countries has made before at great cost.
"It's not clear how much crude will be coming out of the market, with Venezuela in free-fall and uncertainty about how much of Iran's exports might be lost," said Robin Mills, chief executive officer of consultant Qamar Energy in Dubai.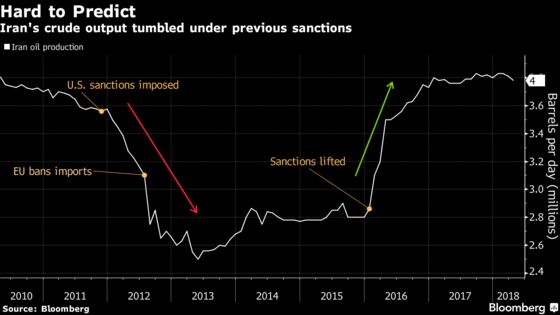 Venezuela's oil output is collapsing as the country's economic crisis spreads to energy infrastructure, while Iran faces renewed U.S. sanctions on oil sales after President Donald Trump quit a nuclear accord with the country. Their combined production could drop about 1.5 million barrels a day, or almost 30 percent, by the end of next year, according to a scenario considered by the International Energy Agency, which advises consuming-nations.
OPEC has led an effort with 10 other producers, most notably Russia, since early 2017 to eliminate the supply glut that accumulated during the U.S. shale-oil boom. With the surplus now cleared, the alliance is contemplating its next step.
Russia has suggested an increase of up to 1.5 million barrels a day, which would roughly offset the amount the IEA said could be lost from Venezuela and Iran.
Yet, it's possible the losses within OPEC could be smaller than anticipated. A month after the U.S. decision to re-impose sanctions on Iran, several European refiners said privately that they still didn't know how much they'd have to cut back.
Should OPEC misjudge the output increase, it wouldn't be the first time. At a meeting in Jakarta in 1997, the organization resolved to raise production just as the East Asian financial crisis unfolded, and demand for crude oil slumped. Prices plunged below $10 a barrel the following year.
This time around, the potential for misreading the global economy has increased as the U.S. and China move to the brink of a trade war. An index of emerging-market currencies is also on track for the biggest quarterly decline since September 2015.
That means it's not just supply that's difficult for OPEC to predict. Global oil demand growth has shown signs of slowing, and in the cartel's latest monthly report it noted a "wide" range of estimates for how much it needs to pump. If demand turns out to be at the low end of the range, OPEC's current output is already high enough, the report indicated.
If supply losses are milder than feared, and consumption falters, a Saudi decision to raise production would push extra oil barrels into a market that doesn't need them.
To avoid such a mistake, the Saudis and Russia have stressed that they will bolster output "gradually."
"The Saudis and the others are normally fairly conservative when it comes to the impact of sanctions, so they're going to wait and see what happens before reacting," said Mike Wittner, head of oil market research at Societe Generale SA in New York.
The "market is well supplied, and OPEC should abide by its decision up to the end of the year," Iran's OPEC representative Hossein Kazempour Ardebili told Bloomberg on Sunday.
With Iran, Venezuela and Iraq lining up to block Saudi and Russian proposals to increase oil production, OPEC members are also discussing a compromise agreement that would see output climb by 300,000 to 600,000 barrels a day over the next few months, according to people briefed on the talks.
Benchmark Brent fell 0.9 percent to $74.63 a barrel as of 8:09 a.m. in London, after climbing 2.6 percent on Monday.
The dissension within the cartel and the Twitter attacks on OPEC by Trump make the meetings later this week in Vienna the most widely scrutinized in years.
"Obviously they don't want to put downward pressure on prices," said Wittner. "But sitting round the OPEC table, it's a risk."