OPEC's Plunging Spare Capacity Poised to Boost Forward Oil Curve
(Bloomberg) -- What happens if the Organization of Petroleum Exporting Countries can't pump enough oil?
The producer group meets in Vienna on Friday with Saudi Arabia leading a push to open the taps a little following a 60 percent surge in futures over the past year. If the world's biggest exporter gets its way, then the resulting output increase will act as a stark reminder that OPEC's spare capacity may soon be the smallest in three years. It could also be bullish for the price of oil along the forward curve.
"If we see any further disruptions in the market, OPEC will have used their supply bullets and find themselves short of spare capacity, setting the stage for much higher prices," said Bastien Declercq, head of CSC Commodities in London, a proprietary trading company specializing in oil derivatives.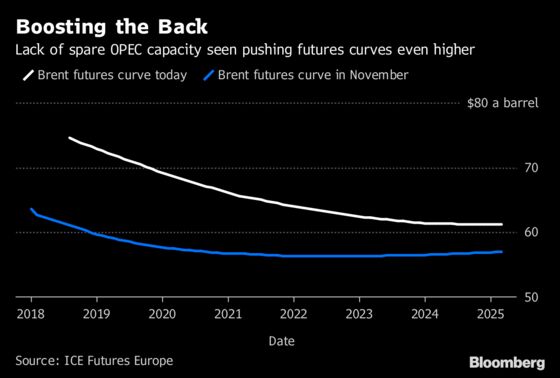 Friday's gathering takes place at a time when there are a series of supply disruptions in OPEC states that don't look easy to fix. Militants have blown up key Libyan oil storage depots. In Venezuela and Iran, output is plunging or set to do so. The International Energy Agency says that OPEC's spare capacity may next year drop to the lowest since the end of 2016.
Oil prices as far as five years forward have seen stronger gains than nearby prices since the end of April. Brent for delivery in five years time is up 7 percent over the period, compared with a loss of 0.3 percent on the nearest contract.
OPEC was on Monday said to be discussing a 300,000 to 600,000 barrel a day output increase, according to people familiar with the situation. While such a measure might add supplies in the short-term, it will prove bullish for prices further out, according to Torbjorn Kjus, chief oil analyst at DNB ASA.
"It means more supply in 2018, but then no spare capacity in 2019," Kjus said. "If you want to look at this logically, you should put in a flattening curve."
There's also uncertainty about the scope for Saudi Arabia or the U.S. to respond if the oil market suffers supply disruptions elsewhere.
The Middle East country, which holds OPEC's biggest spare capacity, says it can lift supplies to 12.5 million barrels a day if needed. That's almost 2.5 million barrels a day higher than now, and a level that's never been tested. The highest rate Saudi Arabia sustained for several months at any point in the past half century was about 10.5 million.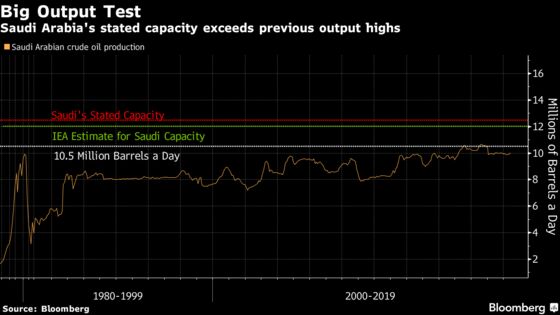 And while output is surging in the U.S., there remains a shortage of pipeline and port capacity to get American barrels overseas. Many of the bottlenecks currently hobbling exports aren't expected to be cleared until at least the second half of 2019, leaving the oil market short of supplies when it needs them the most, Jefferies analyst Jason Gammel said on Bloomberg Radio Tuesday.
As far as OPEC is concerned, estimates of spare production capacity vary. Goldman Sachs Group Inc. wrote on Monday that the group will only be able to bring around 1.3 million barrels a day of production online in the next 12 months. The International Energy Agency expects the figure to sit around 2.5 million barrels a day in 2019. Evercore ISI analyst Doug Terreson said in a note on Monday that global spare capacity is above 2 million barrels a day.
Whatever the number, it'll be eroded a little on Friday if OPEC does agree to pump more oil --- something Iran and Venezuela are resisting. That could lead to a repricing of the forward curve where futures for later years are driven higher than more immediate ones, according to Richard Fullarton, founder of commodity focused hedge fund, Matilda Capital Management Ltd.
"The lack of spare capacity could push oil into contango in the longer-term as contracts further out jump," Fullarton said. "Stronger demand and potentially higher costs of U.S. production may also support the curve."