Lightning Bolts Boost New York Power Prices to Two-Year High
(Bloomberg) -- Thunderstorms sent New York City power prices to the highest in almost two years after the state's grid operator pulled a transmission line out of service Monday afternoon.
Spot power skyrocketed to $576.57 a megawatt-hour between 4 p.m. and 5 p.m. local time. That was the highest average for the period since August 2016, according to Genscape Inc. data compiled by Bloomberg. The uptick occurred after New York Independent System Operator Inc. went into Thunderstorm Alert mode and took a 345-kilovolt line between Pleasant Valley and Leeds offline.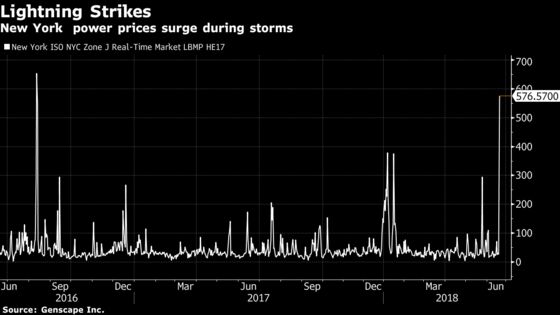 "Expensive generation had to be dispatched in the areas south of that line," said Michael DuBois, a power market analyst at Genscape.