Jefferies Dealmakers Extend Winning Streak as Trading Slumps
(Bloomberg) -- Jefferies Group's two major businesses keep sliding further away from each other, highlighting the firm's transformation from a trading bellwether into more of a dealmaking shop.
Fees from advising on mergers and selling new securities increased for the seventh time in a row. The surge defied a slowdown at Jefferies's bigger rivals, and pushed profit higher than one analyst's estimate. Trading comprised just 37 percent of the company's revenue in the three months ended May 31, dropping for a fifth straight quarter.
Jefferies has been building up its advisory and underwriting businesses over the past several years in an effort to reduce volatility in its results. The firm's parent company, led by Chief Executive Officer Richard Handler, changed its name in April from Leucadia National Corp. to Jefferies Financial Group Inc. as it sold off most of its meatpacking and auto-dealer businesses to focus on financial services.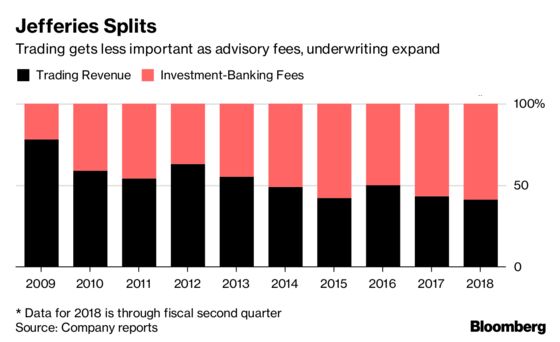 Investment-banking fees surged 42 percent in the second fiscal quarter from a year earlier, the New York-based firm said Tuesday in a statement. Trading revenue declined 11 percent, with fixed income slowing 23 percent. Jefferies said bond-trading volume was "particularly light" in March and then gained in the last two months of the quarter.
Equity trading was little changed, despite the kind of increased volatility in stocks that market makers typically desire. The equities results excluded the positive effects the company booked last year from the value of its KCG Holdings Inc. shares. Virtu Financial Inc. bought KCG last year.
While the investment bank has long offered clues about how larger Wall Street trading desks will fare when they report earnings each quarter, trading at Jefferies has accounted for less than 50 percent of annual revenue for the past four years.
JPMorgan Chase & Co., Citigroup Inc. and Bank of America Corp. executives predicted in recent weeks that trading revenue wouldn't leap ahead of last year's second-quarter levels. Citigroup Chief Financial Officer John Gerspach said the usual slowdown in the second quarter would make for "flattish" revenue, with equities -- boosted by fluctuations in stock prices -- performing better than bonds.
Read More: BofA Trading Revenue on Pace to Be Flat in Second Quarter
Executives at the largest firms have said they expect that even the U.S. corporate-tax reduction many thought would spur company mergers won't be enough to lift advisory-fee revenue above last year's supercharged second quarter. Citigroup and Bank of America said investment-banking fees would probably decline in the period.
Jefferies's rainmakers took in 44 percent more for doling out deal advice to companies. Investment-banking colleagues who help companies sell new stocks and bonds raked in 41 percent more in fees.
Total investment-banking revenue was $506 million. That's "quite striking" because data on completed deals "is generally pointing to investment-banking revenue being off by about 15 percent" throughout the industry, Chris Kotowski, an analyst at Oppenheimer & Co., wrote in a note Tuesday.
While Jefferies has made some hires of senior investment bankers over recent months, headcount didn't budge from 3,438 employees reported in the first fiscal quarter.