FAANGs Quietly Show Strength in Tumultuous Period: Taking Stock
(Bloomberg) -- "You wanna get nuts?! C'mon, let's get nuts!"
The back-and-forth tough-guy tariff game has escalated exponentially over the past 24 hours to the point that it evokes a classic line from a Seinfeld episode where George Costanza blows his lid as various self-inflicted dramas snowball.
I'd say that things are getting a little bit nuts given some of the hefty numbers being thrown around, with Trump now threatening tariffs on another $200 billion in Chinese imports (and an additional fat $200 billion if there's any retaliation, as China has already signaled that they would do "forcefully") as well as the tense political debate over ZTE Corp., which plummeted ~25% overnight after the Senate voted 85-10 to restore penalties, complicating matters for Trump, who has aimed to ease sanctions on the Chinese telecom giant.
Monday's Taking Stock talked about how it might get harder to buy the dip if more legitimate trade war fears start to rear their ugly head around, especially with few other major catalysts or overhangs looming over this market. And we'll get yet another test of this today, one even more telling than yesterday's action off the open, given the magnitude of this latest spat.
S&P futures are down ~30 handles with trade proxies Acacia Communications -5.1%, NXP Semi -3.3% (and further away from Qualcomm's offer), Caterpillar -2%, Boeing -1.4%
Dollar index is at session highs and at the highest in almost a year
VIX is up ~17% to the mid-14s after trading around the 12 mark for over a week now
China stocks plunged as much as 5% to a two-year low with the yuan hitting a five-month low vs the dollar; Xiaomi reportedly saw a massive cut to its valuation (to $55-$70 billion vs the $100 billion touted earlier this year) after deciding to delay its mainland IPO offering
Europe's market breaking lower with weakness in industrials, materials, and the semiconductors; department store Debenhams sinking 20% at one point on a profit warning
FAANG Quietly Showing Strength
Several members of the FAANG complex quietly had a relatively huge day on Monday (GOOGL +2.1%, FB +1.3%, AMZN +0.5%), considering the broader weakness in the tape, and the group as a whole looks to be making strides to the upside that may portend breakouts in the very near future, unless, of course, global markets continue to break lower on trade fears.
A peek at the charts shows Facebook closed at a record on Monday after coming within inches of blasting the $200-share mark intraday; shares now up over 30% from their Cambridge Analytica lows in late March. Alphabet is a few bucks away from a record too, catching a bid yesterday after the JD.com investment and a bullish note from Citi after checks on Google search spend growth.
The Apple situation isn't much different, with the stock relief rallying ever since its most recent earnings and hitting an all-time high about two weeks ago. One of the axes on the name recently slammed that Nikkei article that caused a mini panic about a massive drop in iPhone orders. Meanwhile, Amazon and Netflix appear to have zero problem in taking a leg up almost every day.
What's the reason? Well, besides the fact that these large-caps have led the longer-term bull market higher for seemingly forever, some are seeing the FAANGs as a good spot to hide versus other sectors that are less immune to China, for example most global super-caps, the industrial bellwethers mentioned above (CAT, BA, etc.), the energy space, and even the semiconductors. A piece out from the NYT this morning even has a tidbit about how Trump told Apple CEO Tim Cook that he wouldn't place tariffs on iPhones, which are assembled in China.
The much-talked-about rotation out of tech and into the banks from a couple weeks ago didn't appear to have legs once 10-year yields had trouble staying above the 3% level. And the Street is starting to drum up optimism ahead of the upcoming earnings season -- like GOOGL and AAPL mentioned above, and today with two big calls on NFLX (GBH Insights boosting price target to a Street-high $500 on its "competitive moat" and Piper raising its target to $420 after an analysis of search trends points to possible 2Q upside for international subs) -- so expect the ratcheting up of estimates for the FAANGs to persist..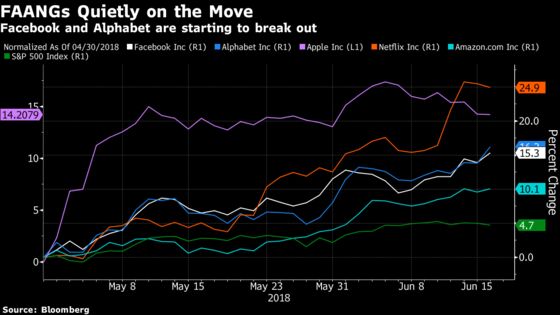 Tie this together with a few other big moves in large-cap tech world (CRM and SQ both hit a record Monday while AMD surged almost 5%) and the mind-numbing rallies in recently-priced IPOs like DBX, IQ, HUYA, and a ton of others (while $6.5b market cap software company Mercari opened ~77% above its IPO price in Tokyo last night) -- I've heard people blaming algos for this, a second coming of the dot-com mania days, or even the crypto fallout for investors looking to park their speculative dough elsewhere -- and it looks like we may have the makings of something extremely interesting going on in what otherwise looks to be a relatively staid and range-bound market.
Here are your biggest calls so far..
Keybanc slaps Street-high price targets on overweight-rated SQ to $70, as Square Cash may be worth $20-share, and SHOP to $182, as Shopify is becoming the "go-to platform for emerging brands..
Deutsche Bank upgraded VZ to buy as wireless fundamentals are meaningfully improving.. Credit Suisse raised FSLR to neutral as "trade fears capture downside".. Citi assumes coverage of the hombuilders & building products group, upgrading PHM, KBH, BECN, and MAS and downgrading FPH..
Goldman says channel checks for HOG's 2Q retail selling environment point to an improved pace to motorcycle sales, though some of this may be due to pent-up demand from lower availability of new bikes in 1Q and weather issues that delayed the start of riding season..
Tick-by-Tick Guide to Today's Actionable Events
Today -- HPE Discover in Las Vegas
Today -- IPO lockup expiry LX
7:00am -- ECB's Lane, Fed's Bullard speak at Sintra
8:00am -- CVX, APC at JPMorgan Energy Equity Conference
8:00am -- World Cup: Colombia vs Japan
8:30am -- Housing Starts
8:40am -- PXD at JPMorgan Energy Equity Conference
9:00am -- Paul Volcker, Thomas Hoenig speak at Institute for New Economic Thinking on "A Looming Financial Crisis?"
9:20am -- COP at JPMorgan Energy Equity Conference
9:35am -- W, APRN at Oppenheimer Consumer Growth and e-Commerce Conference
10:00am -- Senate committee meeting on drug pricing program
10:00am -- MKSI investor day
10:30am -- PPC, PLNT at Jefferies Global Consumer Conference
11:00am -- PAY shareholder vote on Francisco Partners deal
11:00am -- World Cup: Poland vs Senegal
11:30am -- IGT, PLAY at Jefferies Global Consumer Conference
12:00pm -- Goldman CEO Lloyd Blankfein speaks at Economic Club of New York
12:25pm -- Trump speaks at National Federation of Independent Businesses
1:05pm -- WTW at Oppenheimer Consumer Growth and e-Commerce Conference
2:00pm -- World Cup: Russia vs Egypt
2:30pm -- Senate hearing: "Cambridge Analytica and Other Facebook Partners: Examining Data Privacy Risks"
3:30pm -- SHAK at Jefferies Global Consumer Conference
4:00pm -- ORCL earnings
4:15pm -- FDX, LZB earnings
4:25pm -- SBUX at Oppenheimer Consumer Growth and e-Commerce Conference
4:30pm -- API oil inventories
5:00pm -- ORCL, FDX earnings call
Tonight -- EQH's first earnings since May IPO (timing uncertain)