Digicel Said to See Earnings Drop as Hurricanes Take $3m Toll
(Bloomberg) -- Digicel Group Ltd, the mobile carrier company controlled by Irish billionaire Denis O'Brien, told bondholders quarterly earnings dropped 10 percent, according to a earnings release seen by Bloomberg News.
Digicel's earnings before interest, taxes, depreciation and amortization in the quarter ending March 31 dropped to $253 million from the year-earlier period, as the company altered tariffs and took a $3 million hit from hurricanes, the company said in the presentation. Full-year earnings dropped 2 percent to just over $1 billion.
O'Brien founded Digicel in 2001 and turned it into a mobile-phone empire with customers spread from El Salvador to Vanuatu, financing the expansion partly with high-yield debt.The yield on the company's 2020 bonds rose as high as 23 percent this month, before easing to 20 percent on Monday.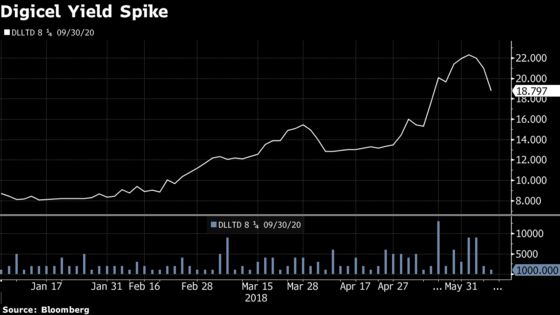 Gross leverage 6.7x at quarter end versus 6x yr earlier
Services revenues dropped 3%
Operating cash flow decreased by 17% to $241 million, due to lower ebitda
Restructuring costs $34 million
A company spokesman declined to comment.