Benettons Said to Mull HMSHost IPO Amid Autogrill Options
(Bloomberg) -- Italy's billionaire Benetton family is considering options to boost the value of its Autogrill SpA restaurant chain, including a listing of its U.S. unit HMSHost, according to people familiar with the matter.
The Benettons, who are seeking a big M&A deal for Autogrill, are discussing alternatives with their advisers, said the people, who asked not to be named discussing private conversations.
A sale of a minority stake in HMSHost, which operates restaurants in 120 airports around the world, is one of the options being considered following the February listing of Hudson Ltd., the U.S. unit of Swiss duty-free retailer Dufry AG, the people said. The discussions are at an early stage and no decision has been taken, they said.
"Autogrill's board hasn't started a feasibility study on any extraordinary operation," the Italian company said in an e-mailed statement to Bloomberg News. "Still, the company is always interested in evaluating opportunities to increase the value of the group."
The North American unit is the biggest contributor of revenue and profit for Autogrill. It generated $2.71 billion of revenue in 2017, or 52 percent of the total, and $308 million of earnings before interest taxes and depreciation. Shares rose as much as 4.2 percent in Milan to trade at their highest in the last three months.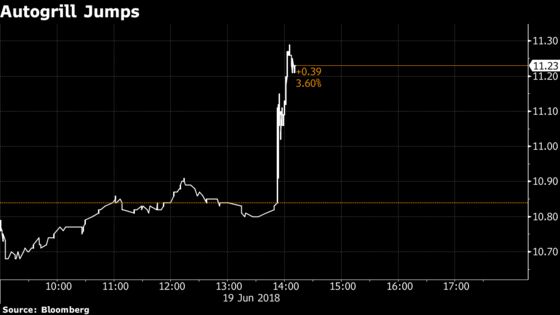 HMSHost could have a higher valuation as a standalone business rather than remaining part of Autogrill, which has a market value of 2.86 billion euros and trades at slightly less than eight times its estimated 2018 profit. Hudson is currently trading at about 10 times estimated earnings, according to Bloomberg data. Based on that multiple, HMS's enterprise value could top $3.1 billion.
Autogrill Chairman Gilberto Benetton said a year ago his family was hunting for a big deal for the company and would be willing to dilute the family's stake in an eventual agreement.
The Benettons hired former Telecom Italia SpA Chief Executive Officer Marco Patuano in 2016 to design a new strategy for its $13.5 billion investment company Edizione Srl.
Autogrill is ready to evaluate M&A opportunities to expand its business in North America, Patuano told Italian daily la Repubblica in an interview Tuesday.
Edizione controls struggling apparel company Benetton Group and toll-road and airport operator Atlantia SpA, which succeeded earlier this year in the purchase of its Spanish competitor Abertis SA after reaching a deal with rival buyer Florentino Perez's ACS.