U.S. Lawmakers Release Thousands of Russia Today Twitter Ads
(Bloomberg) -- Democratic lawmakers released thousands of advertisements placed on Twitter by Russia Today during the 2016 election campaign, showing how the state-backed broadcasting network promoted stories on the social network that tried to sow discord among Americans.
Twitter has since banned advertising from all accounts owned by the Russian media company, now known as RT, after U.S. investigators concluded it attempted to interfere in the 2016 presidential election. U.S. House and Senate committees and Special Counsel Robert Mueller have reviewed the ads run by RT and other Russia-linked sources on Twitter and Facebook Inc. as part of their separate investigations into Russia's involvement in the election.
In addition to the thousands of ads being made public for the first time, Democrats on the House Intelligence Committee on Monday released additional accounts identified by Twitter as connected to the Russian-backed Internet Research Agency and a sampling of tweets aimed at suppressing voter turnout.
"By releasing this Twitter data, we hope that researchers will continue their important work exposing any additional Russian operators who used similar tactics and themes, and provide the American people with additional information to protect our elections and political debate in the future," Representative Adam Schiff of California, the House Intelligence panel's ranking Democrat, said in a statement.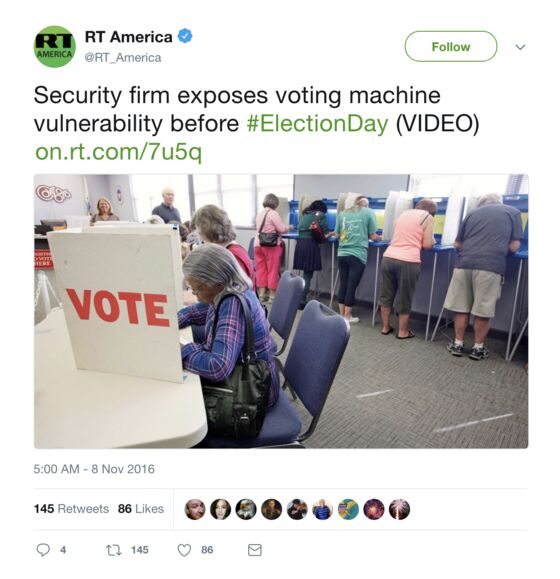 Some of the ads promoted RT's coverage of global events like Brexit or local U.S. news. Most of the ads on RT America on election day focused on persuading users to tune into RT's televised broadcasts of the election. RT also promoted the following tweet the day of the election: "Security firm exposes voting machine vulnerability before #ElectionDay." The tweet linked to a story that cited research from a security firm Cylane, and noted Trump's statement about "a 'rigged' election system" that would favor Democratic nominee Hillary Clinton.
Several of the advertised posts aimed to promote RT by painting mainstream media in an untrustworthy light. For example, one tweet that was advertised said: "Download RT news app -- find out what the mainstream media is keeping silent about."
Another tweet said, "Media & #Clinton campaign hype conspiracy about RT collusion with #WikiLeaks," referring to the leaking of Democratic National Committee emails in 2016.
Several tweets also questioned Russia's involvement in stories reported by mainstream media. "Are the Russian ruining the #DemsInPhilly or are Dems doing it themselves? #VoiceYourVote or blame Russia." Embedded in that tweet is a video with scrolling words that say: "If something has been hacked, it was surely Russia."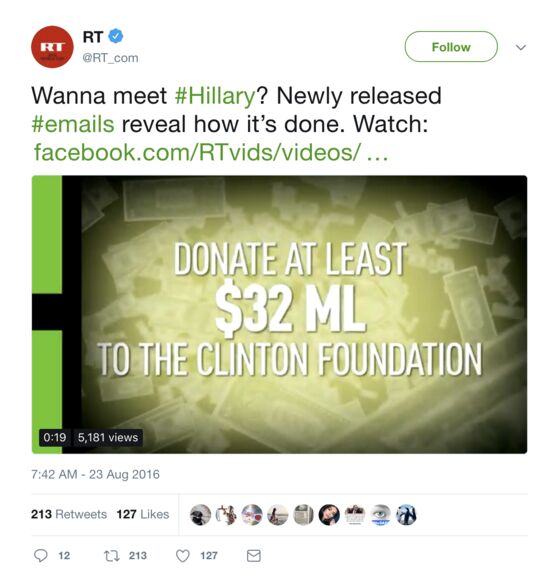 Congressional investigators have previously released examples of the way Russian-backed operatives tried to influence America voters on social media through paid ads and fake accounts, many of which were automated. Twitter found more than 3,800 accounts linked to the Internet Research Agency -- the notorious Russian troll farm -- that impersonated political parties, U.S. news entities, and groups focused on social and political issues. Twitter previously disclosed that Russian-linked Twitter bots shared Donald Trump's tweets almost half a million times during the final months of the 2016 campaign, while they retweeted Hilary Clinton's posts fewer than 50,000 times.
"Twitter has long said we would welcome committees releasing the information we have shared with them, and that because those materials became part of a congressional investigation it was up to the committees when and whether this information would be made public," the San Francisco-based company said Monday in a statement. "We are glad that these materials we have shared with Congress are now available for the general public to see and study."
In October, amid the uproar over election meddling, Twitter said it was creating an advertising transparency center to show how much political campaigns spend on advertising, the identity of the organization funding the campaign and what demographics are targeted by the ad.
The Twitter messages released Monday were part of the "promoted tweets" service aimed at advertisers who want to reach a wider group of users than their existing followers. Promoted tweets are labeled and act like regular tweets that can be retweeted, replied to, and liked. @RT_COM and @RT_America spent $516,900 in advertising in 2016, with $234,600 devoted to ads that ran in the U.S., Twitter disclosed in its written testimony to the Senate Committee on Intelligence. During that period, the accounts generated 192 million impressions across all ad campaigns, with approximately 53.5 million representing impressions generated by U.S.-based users.