Secret ETF Trades Revealed by MiFID Point to Market 70% Larger
(Bloomberg) -- The value of European exchange-traded funds that are changing hands is more than 70 percent greater than previously reported, one indication of the transparency that MiFID II is bringing to the opaque world of off-exchange trading.
Traders have bought and sold an average of 121 billion euros ($140 billion) of ETFs a month this year. In 2017, the monthly average stood at 71 billion euros, according to data that was compiled by Flow Traders NV, Europe's largest trader of the securities.
The European Union's revised Markets in Financial Instruments Directive compels ETF traders and the venues they use to publish their trades for the first time. The increased disclosure matters in Europe, where off-exchange trading of ETFs is relatively much more popular than it is in the U.S. or Asia, and the only visible trades had taken place on stock markets. Bloomberg LP, the parent company of this news organization, operates an off-exchange platform for the trading of European ETFs.
Some 65 billion euros of ETFs changed hands on the two biggest off-exchange venues last month, compared with 61 billion euros of trades taking place on stock exchanges, according to the Flow Traders data. That's the first time that the off-exchange venues have eclipsed the exchanges.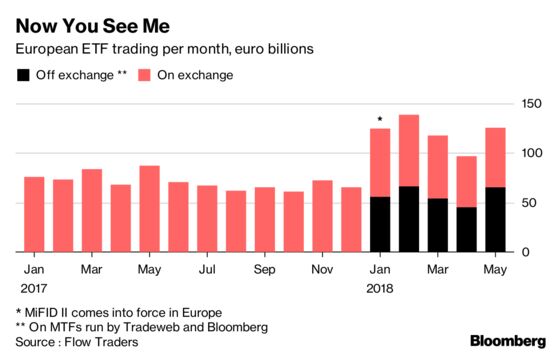 However, market players say the 71 percent increase still understates the role of off-exchange venues. ETF traders and venues alike had assumed that the stock exchanges accounted for just one-third of the trading volumes, with the remaining two-thirds taking place in chat rooms, over the telephone, or in venues called multilateral trading facilities, or MTFs.
"A large proportion of those two-thirds that were being executed over the counter was not reported," Adriano Pace, head of equities for Europe at Tradeweb LLC, an MTF, said in an interview. "This was still executed volume. It's just that it was impossible to see previously."
There are two obvious places where the extra market action could be hiding: a platform applying to be an MTF called RFQ-Hub, which has yet to publish its trading volumes and declined to comment for this story, and a new breed of venue ushered in by MiFID II: the systematic internalizer.
Banks and high-speed trading firms can set themselves up as systematic internalizers under MiFID II. The new status allows them to trade ETFs and other securities directly with their clients as de facto trading venues. Few of the biggest ETF traders, however, have become systematic internalizers. Jane Street Financial Ltd. is the largest to trade as an SI.
"Are we seeing an impact from dealers becoming systematic internalizers?" Pace said. "If so, we would expect to see our platform hit rate drop and fewer trades being executed on us. We have not started to see that."
Systematic internalizers are also required to report their trades, but so far, at least, the data they produce has been so muddled that it's unusable.
The data show how finance firms have embraced ETFs over the last decade, and how you don't need to trade an exchange-traded fund on an exchange, despite the name. Traders hedge their positions with the low-cost securities, while robo-advisers build client portfolios from ETFs.
MiFID II isn't the only reason why European ETF trading appears to have grown this year. The sudden return of volatility in February helped Flow Traders post its best-ever quarter in the first three months.
"If there is more volume, we make more money, and it's as simple as that," Maarten Botman, head of ETF trading at Optiver BV, said in an interview. "Trading volumes are back, and these are the times when market makers can really make a difference. We have had a busier couple of months because of what has been happening in the world, so it's very dangerous saying that MiFID II has positively affected trading."