PTC Therapeutics Up Most Since 2016 on Rare-Disease Drug Results
(Bloomberg) -- PTC Therapeutics Inc. shares rose to their highest price since August 2015 after the company said its experimental drug for spinal muscular atrophy helped the vast majority of babies who got the treatment.
Over the weekend the company reported that after 182 days of treatment, 91 percent of babies on the drug improved more than four points on a scale that measures motor milestone developments in patients with a form of spinal muscular atrophy, or SMA. The data were presented at the SMA Researcher Meeting in Dallas, along with footage showing the babies rolling, sitting and controlling their head movements.
Shares of the South Plainfield, New Jersey-based company were up 24 percent to $46.58 at 10:31 a.m. in New York, after earlier rising as much as 41 percent -- the biggest intraday gain since Nov. 11, 2016.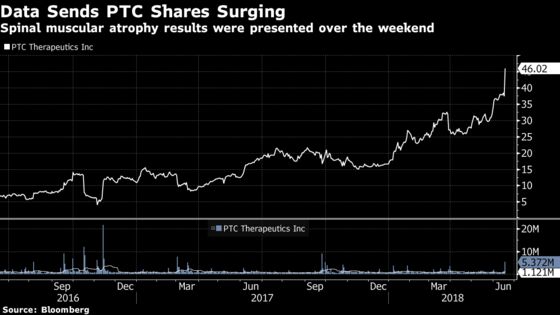 Spinal muscular atrophy is a rare disease that progressively takes away people's physical strength and their ability to walk, eat and breathe. It affects approximately 1 in 11,000 babies and is the No. 1 genetic cause of death for infants, according to Cure SMA, a nonprofit advocacy group.
Biogen Inc., which sells a treatment for spinal muscular atrophy called Spinraza, saw its shares drop by 5.9 percent to $287.13. Biogen's business partner on Spinraza, Ionis Pharmaceuticals Inc., slipped 8.2 percent to $42.77.
PTC's drug is taken orally, while other companies are developing gene therapy treatments that could eventually repair the fundamental genetic causes of the disease.
"While we think gene therapy is the most important competitor, given they could be on the market in 2020 and a one-time infusion, of course an oral would be a major competitor as well if the data is at least similar to" Biogen's drug Spinraza, said Michael Yee, an analyst with Jefferies Group. Yee has a hold rating on Biogen shares.