Norwegian Air Gains as Lufthansa CEO Says He's Mulling Bid
(Bloomberg) -- Norwegian Air Shuttle ASA surged as much as 12 percent after Deutsche Lufthansa AG Chief Executive Officer Carsten Spohr said his company was in takeover discussions with the Scandinavian discount specialist, raising the possibility of a bidding war.
Lufthansa has been in contact with Norwegian and whether an agreement is reached will depend on the price on offer and the strategic value the purchase would add for the German carrier, Spohr said in an interview with Süddeutsche Zeitung. Potential restrictions by cartel authorities will also be a factor, he added.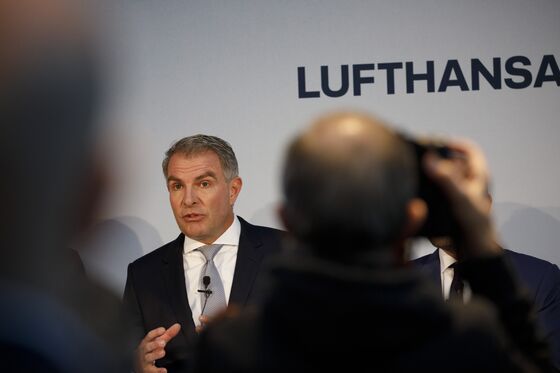 Norwegian's stock gain was the most since late April, when the airline revealed it had attracted interest from additional suitors beyond British Airways owner IAG SA. IAG had disclosed earlier that month it had acquired a 4.6 percent stake and was interested in making a full offer.
"Everybody is speaking with everyone else in Europe, and that means we are also in contact with Norwegian," the newspaper cited Spohr as saying. When it comes to acquisitions, "there are no easy answers," he said. A company spokesman confirmed his comments to the newspaper.
Norwegian Air, a pioneer in extending low-cost flying to the trans-Atlantic market, has rejected two bid approaches from IAG. Chief Executive Officer Bjorn Kjos is grappling with a stretched balance sheet and has said he's not opposed to doing a deal on the right terms.
Shares of Norwegian Air were trading 11 percent higher at 276.20 kroner as of 11:32 a.m. in Oslo, valuing the airline at 12.1 billion kroner ($1.5 billion).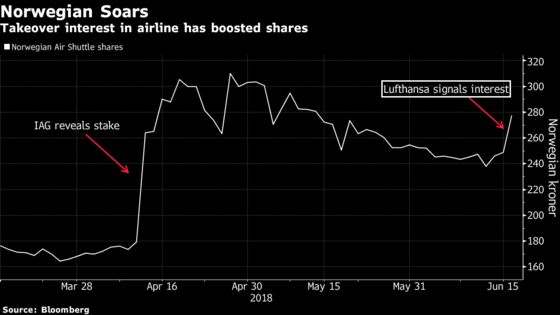 A spokesman for the airline, based outside Oslo, said Norwegian has received interest from several parties, who "expressed indicative and preliminary interest in share acquisitions, mergers, structured transactions, financing of the group and various forms of operational and financial cooperation."
Spohr's comments appear to revive the possibility of a deal for Norwegian after IAG CEO Willie Walsh said on May 18 that the Nordic carrier wasn't a must-have target and that no developments were likely anytime soon. The stock fell 10 percent then following his comments.
Lufthansa would not be able to wring the same synergies from Norwegian that IAG could, and hence would likely not bid as much as IAG may, according to Sanford C. Bernstein analyst Daniel Roeska. Still, Norwegian will likely be the biggest takeover opportunity in Europe for a while.
"It makes good sense for Lufthansa to take a look at Norwegian to get a better feel for those synergies, to be prepared should Norwegian become insolvent, and to make things a bit more difficult for IAG," the analyst said. "A bidding war is unlikely - Norwegian's balance sheet is too stretched and will require a costly repair, so any suitors must ask themselves what they are bidding for."
European aviation has been consolidating since Air France bought Dutch rival KLM in 2004, and has seen a dozen carriers absorbed by the region's three major groups. With Air France-KLM more recently contending with labor strife as it tries to cut costs, M&A activity has been largely driven by Lufthansa, which acquired about half of Air Berlin and is eyeing ailing Alitalia, and IAG, which bought Irish rival Aer Lingus after earlier taking control of Spanish no-frills operator Vueling SA.
Lufthansa has been beefing up its low-cost Eurowings arm to keep discount specialists including Ryanair Holding Plc and EasyJet Plc in check on its home turf. The unit is designed as a holding company to provide services such as marketing and finance, making it simpler for another airline's business to be added. Lufthansa earlier bought the former flag carriers of Austria and Switzerland while keeping much of the brand and identity of those carriers.