In Icahn-SandRidge Tiff, Bitter Words Hide Overlapping Goal
(Bloomberg) -- The oil industry's ugliest battle is heading for a climax in Oklahoma City on Tuesday. But SandRidge Energy Inc. is probably bound for the auction block anyway.
Whether SandRidge or activist investor Carl Icahn wins control of the board this week, the oil and natural gas explorer is expected to sell some or all of its drilling rights as it tries to reverse a long slide in its market value, according to David Beard, an analyst with New Orleans investment manager Coker & Palmer Inc.
Icahn is seeking to replace the entire seven-member board at Oklahoma-based SandRidge, which has seen its stock plummet more than 40 percent since a 2016 bankruptcy. Under pressure from Icahn, SandRidge canceled an acquisition, dismissed two top executives and announced a "strategic review" of assets in just the past six months. Both sides have promised a shakeup.
"Icahn and the management team are probably closer than a lot of these fights would suggest," Beard said in a telephone interview. "They both want to sell the company -- it's just a matter of magnitude and speed. Icahn wants to move faster. If you agree, you'll vote for him."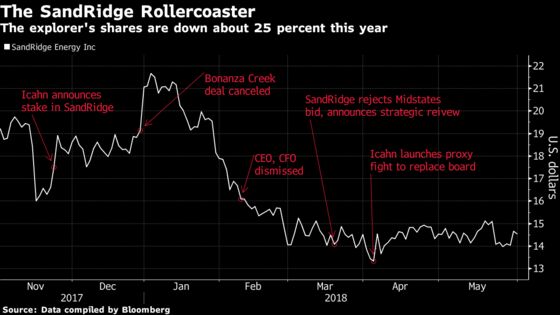 Investors have until midnight in New York to submit votes, with a final tally to be announced Tuesday at the company's annual shareholder meeting. Shares rose 3.5 percent to $16.15 at 12:35 p.m. in New York.
SandRidge has drilling rights on more than a half-million acres across Oklahoma, Kansas and Colorado. But many of its fields are either aging properties saddled with declining production and higher costs, or lacking pipeline access that would make new drilling viable, Beard said.
The company's market value topped $11 billion in 2008, when oil prices soared near $150 a barrel. But a heavy debt load and the plunge in oil prices starting in 2014 eventually forced it into bankruptcy. It ended last week with a market value of about $550 million.
The proxy fight has gotten nasty, with an almost daily flurry of news releases and open letters in which the New York billionaire and the Great Plains explorer excoriated one another. SandRidge blasted Icahn for "half-truths and hyperbole" and a "simply terrible" track record. Meanwhile, Icahn bemoaned a "litany of missteps and blatant transgressions" by directors and "egregious" pay packages.
SandRidge said June 15 that it had signed confidentiality agreements to share information with 17 potential bidders, including Icahn. Giving Icahn full control of the board would threaten that progress, the driller said in a statement.
"If Icahn gets his way by seizing control of or placing his non-independent nominees on the board, he will be in a position to simultaneously run and bid for the company -- putting his interests ahead of other shareholders," the company said.
Icahn, the company's top shareholder with a 13.6 percent stake, has said SandRidge's board can't be trusted to make the right decision on any sale.
"The facts show the board's strategic review process is a disingenuous sham -- window dressing designed to convince shareholders that this board actually wants to maximize value when in reality their primary focus is (and always has been) perpetuating themselves in office," he said in a rebuttal on Friday.
SandRidge has insisted on "unreasonable and onerous terms" with potential bidders designed to impede any deal, Icahn said. His investment firms "do not presently" intend to bid for the company. If that changes, he promised not to interfere in the process.
Two shareholder advisory firms -- Institutional Shareholder Services Inc. and Glass Lewis & Co. -- recommended splitting the difference in reports earlier this month. They urged shareholders to elect four SandRidge nominees and three of Icahn's selections, although they differed on which ones. SandRidge is using a so-called universal proxy card that allows investors to pick and choose from both the company's and Icahn's slates.