London House Prices Continue Descent as Buying Season Ends
(Bloomberg) -- London house prices fell the most since the beginning of the year in June as the capital's property market continued to lag behind the rest of the country.
The price of property coming to market in London dropped by 0.9 percent, bringing the average price to 631,737 pounds ($838,000), property-website operator Rightmove said in a report Monday. Values fell 1 percent from a year earlier, marking the 10th negative month in a row. Nationally, prices grew 0.4 percent on the month and 1.7 percent on an annual basis.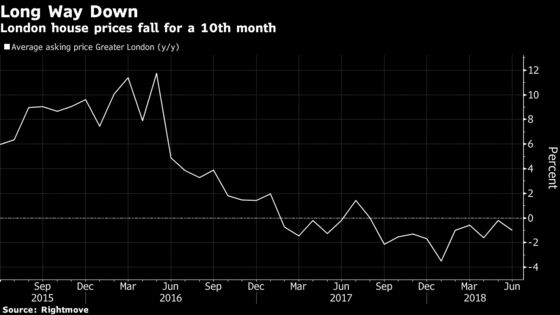 The fall in London can partly be explained by the spring buying season coming to an end. At the national level, figures point to a "steady market," with a shortage of stock pushing up prices in northern regions and the south experiencing the opposite.
In London, "new-to-the-market sellers recognize that the traditionally busier spring selling season is drawing to a close," said Rightmove Director Miles Shipside. "With the year at mid-point, the 2018 summary so far is that the chances of sellers finding a buyer in the northern regions seems to have held up very well against the previous year, but market conditions are clearly more challenging for sellers in much of the south."
A separate report from Acadata showed prices in the capital fell by 0.3 percent on the month.
London's property market has been hit particularly badly by uncertainty surrounding Britain's impeding exit from the European Union.
The British Chambers of Commerce said Monday it had trimmed its economic growth forecasts, with lackluster consumer spending and business investment among the reasons. It now sees the economy expanding 1.3 percent this year and 1.4 percent in 2019 in the worst two years since the financial crisis.