Credit Suisse Gears Up for Next Wave of Leveraged Loan Issuance
(Bloomberg) -- Credit Suisse Group AG is betting that the leveraged loan market can continue its explosive growth over recent years, as buyout firms sitting on unprecedented levels of capital look to maximize their firepower over the next few years.
"There is over a trillion dollars of capital committed to private equity firms that has yet to be deployed," David Miller, the bank's head of credit, said in an interview in New York. "If you look over three or five years that's what we are gearing up and investing for."
Credit Suisse is pushing for growth when some are already sounding the alarm about the credit cycle turning for the worse. The Federal Reserve recently raised interest rates for a second time this year, while the European Central Bank said it intends to stop buying bonds at the end of 2018, removing an important prop to liquidity and valuations since 2015.
At the same time, protections against default, known as covenants, are being relaxed in the leveraged-loan and high-yield bond markets. Moody's Investor Service warned Thursday that the covenant quality of high-yield bonds in Europe will be weaker this year than before the financial crisis. But Miller isn't fazed.
"The leveraged finance market will certainly have quarters that won't be as robust as others but if you look over three or five years that's what we are gearing up and investing for," he says.
Credit Suisse is among a group of European lenders including Deutsche Bank AG that competes with U.S. rivals in leveraged finance, the business of arranging debt for private-equity firms such as The Blackstone Group LP or KKR & Co. Inc. The fees for setting up these deals are often lucrative and often command higher margins than other investment banking services. That's why Credit Suisse is growing the unit, even though it has cut headcount elsewhere in its Global Markets business and exited some areas in credit trading.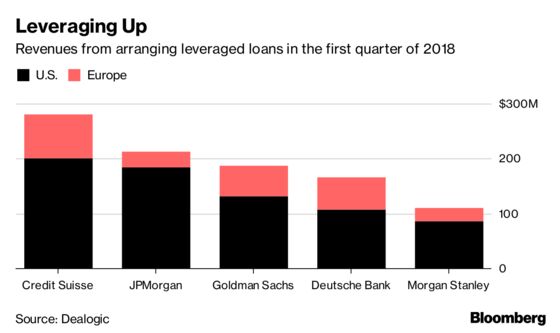 Credit Suisse has increased its global headcount in leveraged finance to 124 so far in 2018, an increase of 13 percent from the end of last year. Staff rose by 14 percent in Europe, the Middle East and Africa, and by 12 percent in the Americas. More recent hires include David Ross, co-head of leveraged finance in EMEA, and managing director Matthew DeFusco. They joined last year from Bank of America Merrill Lynch and Goldman Sachs, respectively.
"Over time, capital will continue to be deployed in our area," Miller said.
Since 2008, the value of leveraged buyouts has almost tripled in the U.S. and has risen 66 percent in Europe, according to Dealogic data. There have recently been signs that Europe is now starting to catch up: the European revenue pool grew 75 percent to $2.7 billion last year, while the U.S. one grew at a more sedate 36 percent -- albeit to a much larger overall volume of $10.5 billion, according to Dealogic.
Dealogic also estimates that Credit Suisse earned more from arranging such loans in the first quarter than any other bank, dislodging JPMorgan Chase & Co from the number 1 spot and claiming over 10 percent of the revenue pool in both the U.S. and Europe.
Miller said that private equity firms may issue $2.5 trillion in debt instruments over the next five to seven years. "To put that in perspective, that is equivalent to approximately the total size of today's U.S. leveraged finance market -- therefore a doubling of that market size," he said.
"The nice thing about this pricing environment is that it brings out more sellers," said Edward Eyerman a managing director at Fitch Ratings Ltd. Fitch said in March it expects issuance in Credit Suisse's home market of Europe to remain strong and default rates to stay low through 2018.
Valuations "have returned to historical peaks and appear late-cycle," Eyerman said, warning of possible turbulence ahead. "We are set to learn how much current valuations reflect fundamentals versus central bank support."