Spain's Premier May Be Vulnerable, But There's Plenty He Can Do
(Bloomberg) -- Pedro Sanchez is leading the most fragile Spanish government since the country returned to democracy 40 years ago.
The 44-year-old prime minister has only 84 Socialist lawmakers in the 350-strong Parliament, but there's still plenty he can do while he keeps hold of the executive branch of government. The next election isn't due until 2020.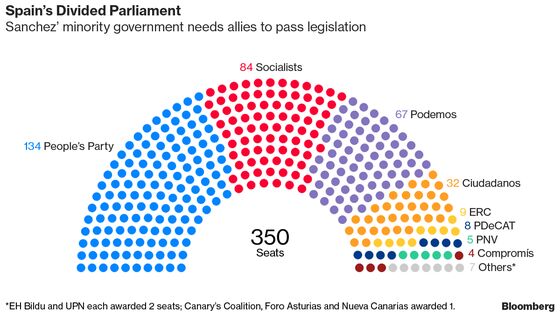 Here's a rundown of some of the areas where he can make a difference:
The bitter aftermath of Catalonia's push for independence last year is probably the most important issue facing Sanchez. But the wholesale constitutional reform the Socialists have been proposing to address the situation would require the backing of two thirds of the Parliament. So that's out of reach.
But Sanchez can use his bully pulpit to build support for elements of that plan, such as moving state institutions like the Senate to Barcelona, or for strengthening the mayors of major cities. Handing more power to Barcelona City Hall would dilute the power of the separatists controlling the Catalan government.
Sanchez also gets to pick a new attorney general. Whoever takes that job will be able to influence the fate of nine separatist leaders jailed near Madrid. Under new leadership, prosecutors could reconsider their request for the Catalans to be held on remand, potentially easing tensions in the region. Once the investigation is complete, the prosecutors will also have a big say over whether they ultimately face trial.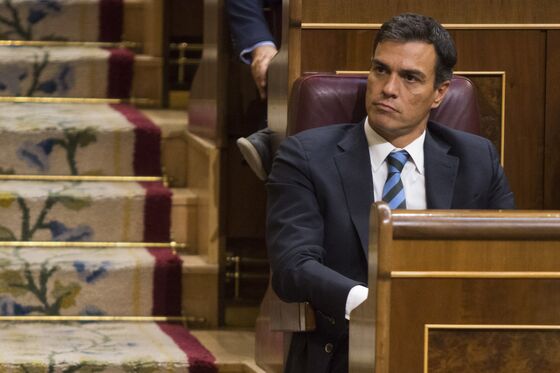 If he's still in office by September next year, Sanchez will get to name a new president and three out of nine other board members at the super regulator that governs much of Spain's economy. The regulator's mandate means the new leadership will be secure in their posts for six years.
Those officials will have the chance to shape industries such as power and telecommunications as well as ruling on competition issues arising from any potential takeovers. If Sanchez wants to legislate to give the regulator more powers to keep large corporations in check, that's one area where he might win widespread support in Parliament.
Nuclear Plants, Banks, Highways
Sanchez's government will have the option to renew the operating licenses for three aging nuclear power plants controlled by Enel SpA's Endesa unit. While its commitment to increasing the share of renewable power generation may also impact the utilities.
Economy Minister Nadia Calvino also has to decide what to do with the government's 61 percent stake in Bankia SA. The lender has 210 billion euros ($250 billion) in assets and could play a key role in the Spanish banking industry at a time when the Bank of Spain is pushing for further consolidation.
The previous administration was ready to begin tendering for 5 billion euros of road concessions in the most ambitious revamp for the highway network since crisis-era austerity kicked in. Now Sanchez will get to say who gets the pork.
The premier could even opt to remove some highways tolls when their concessions expire next year. With toll roads concentrated in Catalonia, that gives him another card to play as he looks to drain support from the separatist movement. Though he may opt to keep hold of the revenue.
Building a Political Operation
Sanchez's Socialist Party has seen its organizational muscle wither away due to public funding cuts tied to its declining vote. But the new government has about 1,000 high-level jobs to hand out from deputy ministers to chiefs of staff and other advisers. Senior officials can make more than 80,000 euros a year, compared with an average salary of around 27,000 euros.
While party headquarters (which hasn't always been loyal to the leader) is operating on a shoestring, the prime minister suddenly has a recruitment budget as he looks to bulk up his political operation ahead of city hall and regional elections next year.
There is a raft of legislation approved under the previous government that still needs to be turned into regulation in order to take effect.
So Sanchez will get to shape what happens on the ground by deciding where the administration focuses its attention. Given his pledge to clean up public life, the law on transparency in public contracts is one that may be a priority.
He's also likely to push ahead with plans to bolster the independence of the state radio and television broadcaster. That law was passed by a majority of opposition parties last year which got together to outvote Rajoy's minority government.
Sanchez could also remove Draconian restrictions on the right to protest that Rajoy pushed through in 2015 as he sought to retain control of the streets at the height of his austerity drive.
Sanchez will have to navigate a treacherous parliament where the allies who voted him into power have contrasting demands, but he'll also have to face a newly emboldened Senate.
Spain's upper chamber has largely operated as a retirement home for party veterans -- its decisions can be overridden by a vote in the Chamber of Deputies. But with Rajoy's People's Party still commanding a majority there, its power to call Sanchez and his ministers to testify is likely to be put to use.