Rocket Scores Best IPO as Online Furniture Seller Soars in Debut
(Bloomberg) -- Home24 SE rose as much as 35 percent on the online furniture retailer's first day of trading in Frankfurt, the best ever share debut for a startup backed by Rocket Internet SE.
Home24, which sells home furnishings such as sofas and lamps via its websites and apps, rose to a high of 31 euros after setting a final offer price of 23 euros, near the top end of its range. That performance beats even that of online fashion retailer Zalando SE, which rose as much as 14 percent on its Frankfurt debut in October 2014.
"This shows there's healthy demand for the shares," Lucas Boventer, an analyst at Warburg Research, said by phone. "It's a very positive reaction in a relatively challenging stock market environment."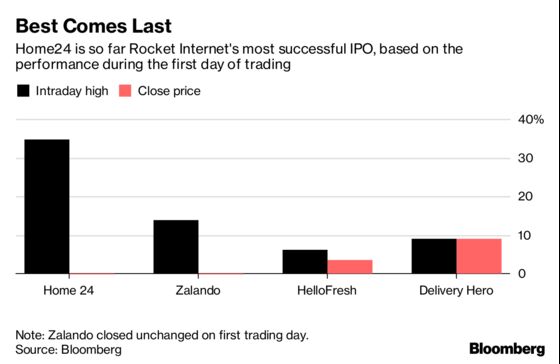 The debut is good news for Rocket Chief Executive Officer Oliver Samwer, who has backed the successful IPOs of food-delivery company Delivery Hero AG, which is active in more than 40 markets, and meal kit startup HelloFresh SE last year. Those share sales, and its divestment of Lazada Group SA to Alibaba Group Holding Ltd. in 2016 and 2017, were lucrative exits, yet the executive hasn't made significant investments or startup incubating announcements over the past two years.
Shares were up 29.9 percent to 29.875 euros at 10:55 a.m. in Frankfurt Friday, giving the company a market capitalization of 782 million euros ($907 million).
Home24 is the latest of a flurry of recent share sales after Dutch payments processor Adyen NV pulled off Europe's biggest ever technology IPO this week, turning one of its co-founders into a billionaire. Funding Circle Ltd., the No. 1 peer-to-peer lender in the U.K., is preparing for its own IPO later this year. Last month, PayPal Holdings Inc. acquired Swedish payments processor iZettle, whose card readers are popular with cafes and pop-up retailers in London, for $2.2 billion.
Home24 wants to use the IPO proceeds to invest in winning more customers in its existing markets, co-CEO Marc Appelhoff said Friday.
"We want to further speed up our profitable growth and roll out our refined marketing approach to more countries," Appelhoff said by phone. "We're debt-free and well-capitalized."
For decades, traditional furniture retailers have relied on shoppers driving to out-of-town outlets, collecting products from warehouses and spending time screwing flat-packs into bookshelves and cabinets. Now, online furniture sales are expanding in many markets around the world.
Home24 sells its products in Brazil and seven European markets including Germany and France. In Europe, it's offering free deliveries and returns, and has opened brick-and-mortar showrooms in cities including Berlin, Munich and Vienna. Home24 plans to add showrooms in its other markets as well, Appelhoff said. The startup is already investing in augmented-reality technology with an eye to further improve the buying experience, Appelhoff said on a call with reporters in May. The company targets reaching break-even on adjusted earnings within about 18 months.
Home24's offering is for about 7.5 million shares, including an over-allotment, it said earlier this week. Rocket before the share sale held 41 percent in Home24. The furniture seller allocated Rocket enough shares so that its holding remains above 30 percent, Appelhoff said.
For 2018, Rocket expects to make "progress" on profitability, its share price, and starting and investing in new companies in the areas of fintech, marketplaces and artificial intelligence, Samwer told shareholders on June 8.
The German business has copied successful U.S. internet companies by hiring staff, providing management know-how and funding initial marketing -- a formula that has turned its founders, brothers Oliver, Marc, and Alexander Samwer, into billionaires.
Berenberg, Citigroup Inc. and Goldman Sachs Group Inc. are arranging the Home24 sale.