Four Billionaires Minted in a Week From Battery Maker's Listing
(Bloomberg) -- A surge in the shares of the world's biggest maker of electric-vehicle batteries for a fifth day after listing has added a fourth billionaire to the ranks of mainland China's rich this week.
Li Ping, a vice chairman of Contemporary Amperex Technology Co. Ltd. owning about 5.6 percent of the company, saw his net worth jump to $1.1 billion on the rally, according to the Bloomberg Billionaires Index. He joins founder and top shareholder Zeng Yuqun, his lieutenant Huang Shilin, as well as investor Pei Zhenhua on the list of billionaires the firm has produced.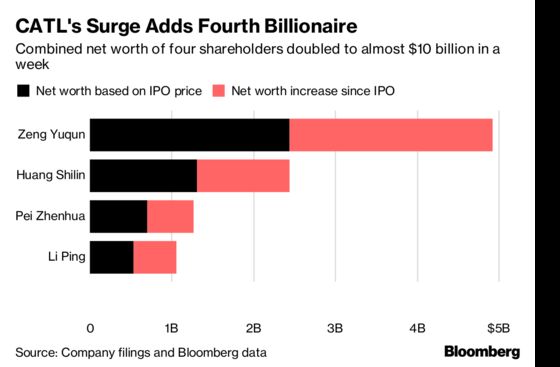 After vaulting 44 percent on its debut in Shenzhen on June 11, the stock has risen by its daily limit for the rest of the week, more than doubling in value to as high as 53 yuan on Friday. The company sold shares in an IPO at 25.14 yuan apiece.
The Ningde, Fujian-based CATL, as the battery maker is known, is getting ready for a boom in electric vehicles as governments around the world crack down on fossil-fuel emissions, prompting leading carmakers and less-known startups to develop models for the masses. Investors are flocking to the stock, betting CATL can fend off rivals Panasonic Corp., which makes power packs with Tesla Inc.; Warren Buffett-backed BYD Co.; and LG Chem Ltd.
Zeng, a 50-year-old engineer who started CATL seven years ago, owns a 26 percent stake and has an estimated net worth of $4.9 billion. Vice Chairman Huang holds 12 percent worth $2.4 billion, while Pei's net worth is $1.3 billion. A CATL representative declined to comment.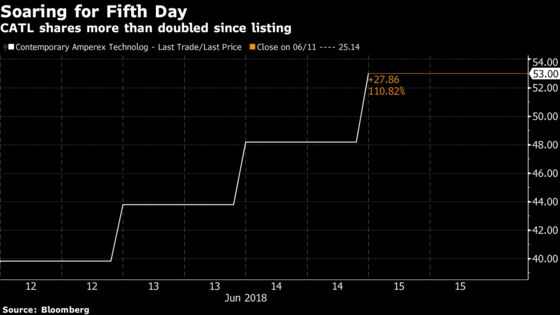 China had 45 billionaires on Bloomberg's list for the world's top 500 richest people with a combined net worth of $506.3 billion as of June 14.